Upcoming Real Estate Events
Open to the public! Membership is not required.
Note: few events in July and August. 2018- 2019 season starts in September.
You are not logged in. Purchase any non-member ticket to create an account. Or
log in to your account
for member tickets.
Early bird pricing available until noon seven days prior.
Sun

Mon

Tue

Wed

Thu

Fri

Sat

1

2

3

4

5

6

7

8

9

10

Marlborough Tue 7/10: MWPOA Member Picnic

1 Muddy Ln, Marlborough, MA 01752, USA

1 Muddy Ln, Marlborough, MA 01752, USA

https://masslandlords.net/event-web/marlborough-2018-07-10/2018-07-10/

Members with "MWPOA" memberships are invited to the MetroWest Summer Picnic. We'll have catered barbecue, great conversation, and our always fun "left behind" auction.

Bring a dessert to share! The best homemade dessert may win a prize, to be announced.

This event is for MWPOA-members only and is free with membership.

Tuesday, July 10th

MetroWest Property Owners Association Picnic

Location

Marlborough Fish and Game
1 Muddy Ln

Marlborough, MA 01752

Food

Catered barbecue
Beverages
Dessert

Pricing & RSVP

MWPOA membership required. *MWPOA Members* RSVP by emailing your full name to Laurel newlakeview@yahoo.com

This event is operated by volunteers.

11

12

13

14

15

16

17

18

19

20

21

22

23

24

25

26

27

28

29

30

31

August

August

August

August
Find events by location, from west to east:
Pittsfield (RHABC): 3rd Tuesday
Longmeadow or West Springfield (RHAGS): 2nd Thursday
Southbridge (SWCLA): 1st Monday
Worcester (WPOA): 2nd Wednesday
Fitchburg (NWCLA): 2nd Thursday
Marlborough (MWPOA): 2nd Tuesday
Waltham (CRRHA): 1st Wednesday
Cambridge: 3rd Tuesday
Note about meeting service:
Our events range widely from "no food" to "full buffet and cash bar".
Speakers range from informal ("This event is run by volunteers at a partner association") to rehearsed ("This event is run by MassLandlords staff").
Please note your location and all event details.
By tradition, there are no regular monthly events in July or August. There may be volunteer picnics, governance meetings, crash courses, or other events scheduled as needed.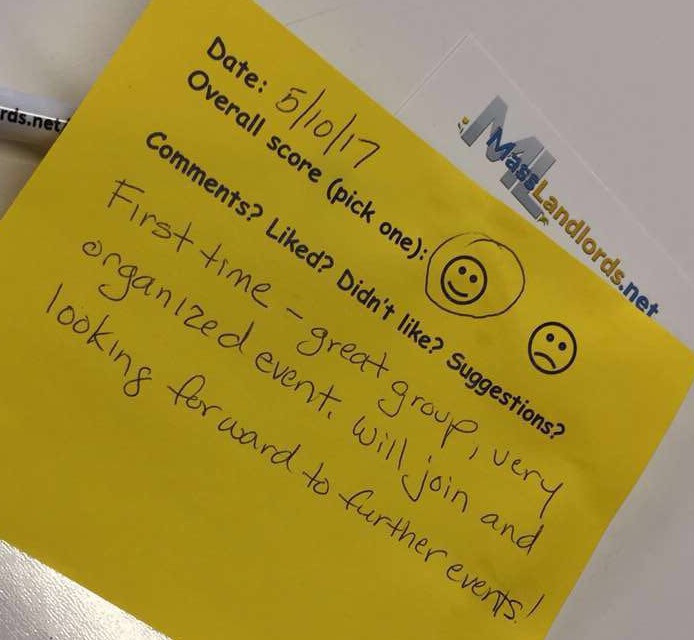 If you have any questions concerning events, please contact us at hello@masslandlords.net
Regular meetings and special events appear when details are known.
Related pages: