On the calendar below, click the event title to view the full details for each upcoming event. For chapter and general event information, scroll to the very bottom of this page.
Non-members welcome! Come see what MassLandlords is all about!
MassLandlords events are open to the public. We welcome any interested individuals to join us to network, learn and contribute to our ever growing community.
MassLandlords and/or partner groups hold regular membership meetings every month except July and August. From west to east:
Longmeadow or West Springfield (RHAGS): Second Thursday
Sturbridge (SWCLA): First Monday
Worcester (WPOA): Second Wednesday
Marlborough (MWPOA): Second Tuesday alternating months
*New Date!* Charles River (CRRHA): Newton/Waltham/Watertown: Third Tuesday
*New Series* Cambridge: Third Monday
Note about meeting service:
Our events range widely from "no food" to "full buffet and cash bar".
Speakers range from informal ("This event is run by volunteers at a partner association") to rehearsed ("This event is run by MassLandlords staff").
Please note your location and all event details.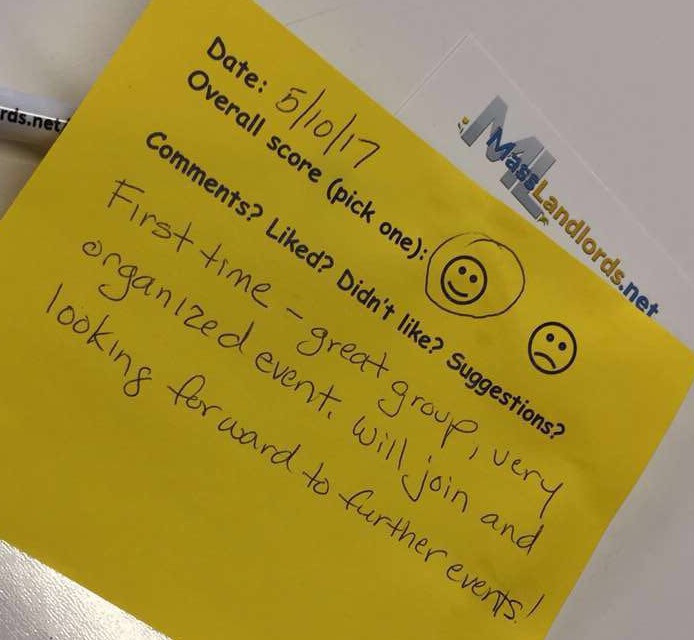 If you have any questions concerning events, please contact Alexis Gee, Manager of Marketing and Events, at agee@masslandlords.net
Regular meetings and special events appear below when scheduled.
Related pages: