Become a Property Rights Supporter!
Monthly credit card donation:
Checks payable to "MassLandlords", memo "Property Rights":
MassLandlords, Inc.
PO Box 844570
Boston, MA 02284-4570

We need your help by March 31 to budget for public hearings opposing just cause eviction and supporting mandatory rent escrow and security deposit reform.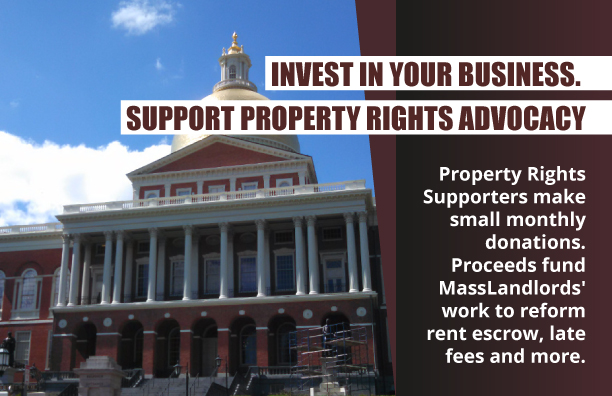 MassLandlords exists to help owners rent their property, and to advocate for better housing laws. Since we launched in February 2014, we have made enormous progress building the foundation. We need every member to help us start dusting off the cobwebs of Massachusetts housing law.
Anyone can contribute whether a member or not.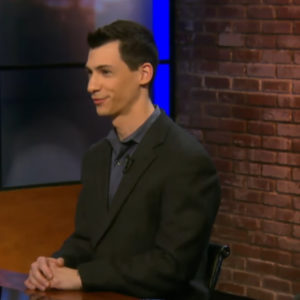 MassLandlords Executive Director was on TV December 6, 2016 to debate the City of Boston and the Metropolitan Area Planning Council on Just Cause Eviction Rent Control. Evaluate whether MassLandlords did a good job representing you, watch the episode.
"If the City of Boston wants to petition the legislature for something, we should petition for zoning reform, [not Just Cause Eviction]."

-Executive Director Douglas Quattrochi
The MassLandlords Policy Agenda
We want to be a voice of balanced reason in the Commonwealth. For too long, landlords and tenants have been at loggerheads on so many issues. MassLandlords is a centrist, pragmatic organization. Our mission is literally to "create better rental housing in Massachusetts." We hope this is a mission that everyone can get behind, left or right, Democrat or Republican.
Our policy page goes in depth into many issues. Here is a short list of what we aim to accomplish:
Require the mandatory escrow of rent to prevent the "free rent trick", while preserving tenants' rights against slumlords.
Increase the lead paint credit, which inflation has eroded away to nothing, while continuing to eliminate lead as a hazard in the Commonwealth.
Allow landlords to charge a reasonable late fee like every other industry and every other state, while helping low-income tenants avoid eviction.
Clean up the security deposit law which causes triple damages and reverses evictions, without returning to the days when landlords could steal these deposits with impunity.
Reform the move-and-store law, which is three times more onerous to Massachusetts landlords than the next nearest state, while ensuring that no one's valuable or sentimental possessions are damaged or lost.
Free up zoning regulations to let landlords run their businesses and create safe housing.
Help the homeless to find real homes while protecting landlords and reducing the Commonwealth's $200 million annual expenditure on emergency assistance.
and so much more!
As of January, 2017, the membership's #1 priority was mandatory rent escrow. (We will update this #1 priority as survey data changes.)
Vote with your Dollars
Tens of millions of dollars a year are spent on tenant advocacy. With the exception of a few times in the past, like the first lead paint laws and rent control, landlords have never raised enough to counter-balance Beacon Hill. Should we get money out of politics? Yes! But are we there today? No. Help us be the voice of even-handed reason by supporting us each month.
Did you know? MassLandlords Executive Director Doug Quattrochi was on a nationally syndicated podcast discussing MassLandlords' advocacy for homeless people. Listen here.
There is no fine print
Property Rights Supporter funds are budgeted specifically for actions that contribute to lobbying for or against specific bills and, if MassLandlords deems it necessary, for or against candidates for office. We will follow all required laws, including lobbyist registration, tax accounting, and standards of behavior for gifts, meetings, and open dealing.
MassLandlords is democratically governed by members. As of December 2016, we were run by honest people with no plans to change this.
100% Tax-Deductible
As a service to members, you can deduct the full amount of your contribution on your tax return as a business expense. MassLandlords will pay state and federal taxes at the statutory rates (e.g., 35%) on any donated amount that gets used for lobbying. If we don't lobby, or if we use the funds to build up our infrastructure, then we will pay no tax. It doesn't matter to your taxes. You will be able to deduct 100%. You can watch our progress on publicly available Form 990.
As of December 2016, our tax accountant was Moody-Famiglietti and Andronico. Because we have elected to pay tax at the highest rates on actual amounts lobbied, your contributions will be fully deductible on your returns.