WPOA Benefits
We're working on bringing WPOA-specific benefits and measurable cost savings to WPOA members.  Some of these programs are also pilot programs for wider roll-out to all MassLandlords.net members.
Home Depot Keytag Program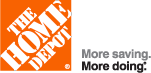 Home Depot #2684 is piloting a WPOA keytag program, which offers two real cash benefits to all WPOA members who sign up:
20% off all paint purchases
$1,000 threshold for bid room price reductions
These benefits are better than what you can get as a member of the public.  Normally you'd have to purchase so much paint before getting into the 20% off tier, and normally you wouldn't get access to the bid room unless your purchase was $2,500 or more.
Joining the Keytag Program is Easy
Visit Carol Brides or any of the four other Home Depot associates who work the Pro Desk.  (This is at the east end of the store up front, or right if you're inside the store looking at the cash registers).
You will:
Sign up for their Pro Xtra program, which gives you access to individual coupons
Receive a WPOA keytag barcode.
To receive your keytag benefits, you must check out at the Pro Desk.  The regular cashiers and the self-service checkout won't recognize your status.
Other Benefits from Home Depot
Carol and the Pro Desk have other opportunities, including:
Commercial Credit Cards
The Water Heater Program
The Cabinet Program
$19.95 same day delivery
In-store inventory checks from your smart phone
You can drop in, or better yet, call to schedule an appointment at 508-854-2364.
Documents:
Lowes Paint Program

Lowes #1206 is piloting a WPOA paint program, which offers the following cash benefits to all WPOA members:
20% off all paint purchases
ProDesk support and help with larger projects
Online Benefits
Watch Past Meetings:
https://masslandlords.net/wpoa/past-meetings/
Download Rental Forms:
http://masslandlords.net/forms
Search for Providers:
http://masslandlords.net/directory
Ask a Question:
Email WorcesterPOA@GoogleGroups.com
Trouble with GoogleGroups?  Read the help.