How to use the Google Group System
Your Google Group will be easy to use once you get the hang of it.
Important: One Thing you Need to Understand
The Google Group is a service provided by Google.com. Your log-in for MassLandlords.net is separate. You get access to the Google Group when you join MassLandlords.net as a paid member, but there is no password. You will start getting emails automatically. You can ask a question or make a reply just by emailing your group mailbox. No log in required!
Basic Usage
To start a new conversation, email your group
To reply to an existing conversation,

...if you get emails one-at-a-time, reply-to-all.
...if you get emails in a digest, click the email subject (requires a google account).
Common Mistake: Delivery Status Notification (Failure)
If you see this message after attempting to post, make sure you sent the email from the address we have on file. If you signed up with the email address info@yourcompany.com, you can only post from that address. You cannot email from yourname@yourcompany.com. To change which address we registered, email  hello@masslandlords.net.
Additional Benefit for Google Accounts
If you already have a Google Account, tell us your gmail address! Email hello@masslandlords.net  and ask for your other address to be replaced with your gmail address.
You can also create a Google account using a non-Google address. Just visit groups.google.com and click "sign in" and then "create account" or "add account".
Google account holders get the following additional benefits:
Search Past Conversations
You can search past conversations online. Visit the home page for your local group and read the page until you find the link for "Google Group".  Or if you don't have a local group, go to "Forum | MassLandlords Google Group".
This page may not be updated, but here are two of the places where a group is searchable:
Change Delivery Preferences to "Digest" or "All Email"
The default setting depends on whether you already use gmail.
If you have a Google account, you can change your email settings by logging in at https://groups.google.com.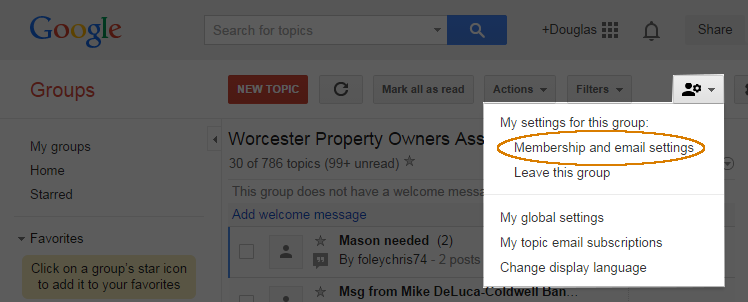 If you don't have a Google account, we can change your delivery preferences for you. Email hello@masslandlords.net with your request (e.g., "Please change my delivery setting to 'digest'. ").
Are  you getting too many emails? Ask to have your setting changed to digest.
How Digests Work
With a digest, you don't receive emails except in certain situations. If you were the original poster, and someone chose to CC you in their reply, you will get the email CC. The second way you might see a non-digest email is if you respond to someone else' post and CC the original poster, and then they reply-all.
You must be a paid member to use a MassLandlords.net Google Group.  Log in and view the Member Home Page for help.
Can I be Added to Other Groups?
Yes! By default we add you to the one that matches your membership level when you sign up. To be added to any message board, email hello@masslandlords.net with the region or regions you want. To be added to our closed Facebook group, request to join via Facebook.
Can I post unsolicited commercial messages?
No, you may not post unsolicited commercial messages to our message boards. You may offer your goods, services, or real estate in response to a member question.
For example, if someone asks whether anyone has a three-decker they are looking to sell, then you can post a link to or describe the three-decker you want to sell. You cannot start a new thread, or hijack an existing thread, to post your listing out of context.
Messages boards are members-only.
Become a member and access email and Facebook message boards.