Meetings Gone By: Videos, Presentations, Handouts & More
Have you ever wondered if you could re-watch a presentation that you really enjoyed? Then you've come to the right place! We've got videos, presentations, handouts and more.
Here you will find the past meetings pages for Worcester (WPOA), Springfield (RHAGS) and Waltham (CRRHA). Each page is chronologically ordered, beginning with the most recent meeting and ending with the oldest. In Worcester we record most of our speakers and provide downloadable versions of their slideshows and handouts so anyone who had to miss the meeting can still learn from our wonderful presenters. Worcester has the most extensive past meetings record, Springfield's meeting history stretches back to September 2015, and Waltham has the shortest history because it is the newest of our chapters.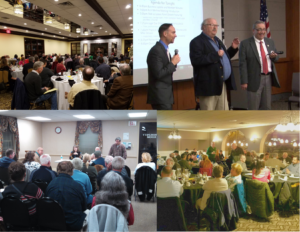 Please note that you must be logged in as an active member in good standing to be able to view all of the past meetings content. Join today for just $98 and you'll have unlimited access to all past meetings materials, rental forms, discounts and more!
Curious about upcoming events? Click here to view the Upcoming Events Page