by Doug Quattrochi. Posted in News -
Local rent control and local right of first refusal will be decided in committee between March 1 and May 9 by June 30.
Remember the Petrillos, the Bolognas and Others
The rent control years were a disaster for the towns that enacted rent control, for the landlords who operated there, and for surrounding communities.
Rent control was repealed by statewide ballot initiative in 1994.
Housing providers suffered unimaginable injustice trying to do the right thing.
At the house above, for instance, landlord Peter Petrillo was ordered by the rent control board to jack up this house at his expense to create a fourth basement unit he didn't want. Peter died of a heart attack within days.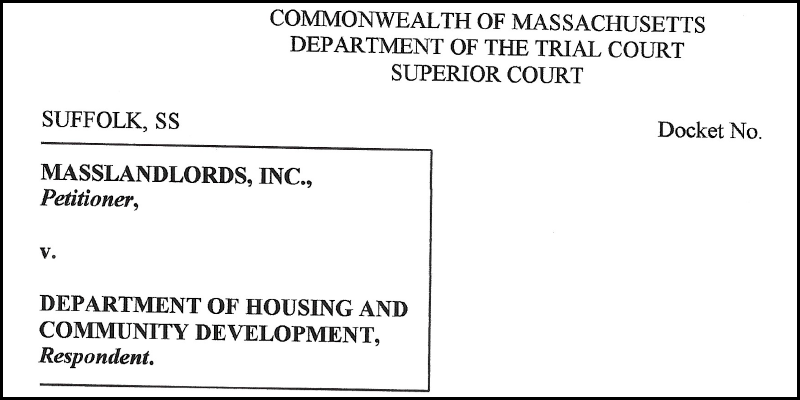 Landlords Don't Want It, and Neither Should Renters
Cambridge, Boston and Brookline had local rent control. Only 12% of renters in controlled units were renters of color, despite 24% of those communities being residents of color.
When rent control was repealed, the number of renters of color in formerly controlled housing doubled.
Landlords who could only charge so much held their units vacant waiting for the perfect applicant.
In America and Massachusetts no less we have an unfair Black-white gap in four key metrics:
income
credit
eviction history
convictions
Even in a state with strong protections against personal racism, rent control inadvertently worsened systemic racism.
MassLandlords is currently in court with the Department of Housing and Community Development unrelated to rent control but laser-focused on equal housing opportunity. We're serious about this.
What could be more exclusionary than a rent-controlled anti-displacement zone? Single family zoning itself.
Let Us Build More Housing!
Most of the state is zoned single family. Even if a lot is theoretically able to be a duplex, setbacks, minimum lot sizes and floor area ratios prevent us doing our job.
California, Oregon and Minneapolis have all taken dramatic action to permit "gentle density." Without changing the look and feel of neighborhoods, they will now permit landlords to operate more rental housing, increase supply and stabilize rents through market forces.
Plus, many Bay Staters of color who cannot afford to buy a home will be able to find new opportunity with zoning reform.
Many housing regulations are sensible and necessary. Local control of housing policy is neither.
Take Action
We need your help. Pick one or more:
Read the bill text, see bill numbers and call your Representative and Senator. Ask them to write the Joint Committee on Housing to stop local control of housing policy.
We depend on membership dues and voluntary Property Rights Support donations to operate.
We're ready with an anti-discrimination lawsuit to stop rent control, but we will pull out all the stops including a referendum if necessary.