Springfield Rental Real Estate Networking and Training
Our staff and the volunteers at the Rental Housing Association of Greater Springfield have created the most informative Springfield rental real estate networking and training events. If you want to operate here or are considering it, you should come see what we're all about. All events are open to the public. Membership is not required.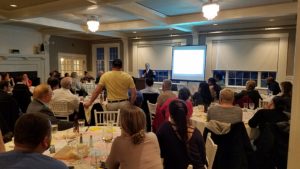 Find Tickets for the Next Springfield Event
2nd Thursday of Every Month
Our Springfield rental real estate networking and training events take place the second Thursday of every month except July and August, which we take off to work on our rental properties or get a bit of needed R&R.
Real Estate Networking Time: Typical Agenda
Every event starts and ends with networking time. A cash bar helps facilitate conversation and there's a dedicated bar and networking area.
Networking at this location draws from Springfield, West Springfield, Holyoke, Chicopee, Ludlow, Wilbraham, East Longmeadow, Longmeadow, Agawam, Southwick, Southampton, Easthampton, Northampton, Westhampton, Hadley, South Hadley, Granby, Amherst, Belchertown, Ware, Palmer, Warren, Monson, Hampden, and Westfield.
Springfield Meeting Agenda
5:30pm Sign-in/Networking/Dinner
6:00pm Buffet Dinner
6:40pm Executive Director Doug Quattrochi with the MassLandlords Business Update

Member Minutes – Any member can have the mic for 60 seconds (offer a deal, ask a question, share warnings, etc.)

7:00pm Speakers
8:30pm End of presentations
9:00pm Doors Close
Location
This event series moves!
September 2019:
Delaney House
3 Country Club Rd
Holyoke, MA 01040
October 2019:
Twin Hills Country Club
700 Wolf Swamp Rd
Longmeadow, MA 01106
November 2019:
Munich Haus
13 Center St
Chicopee, MA 01013
Food at Springfield Real Estate Networking
Hot buffet dinner, incl. salad and rolls
Cash bar
Hot Coffee & Tea
Dessert (cookies, brownies, and blondies)
*Dietary restrictions: purchase an early-bird ticket and email hello@masslandlords.net, we will accommodate you.
Pricing
Open to the public. Non-members always welcome!
Door:

Public: $36.00
Members: $31.00

Early bird, reserve seven days prior by 12pm:

Public: $34.00
Members: $26.00
Attire
Don't judge a book by its cover! The most successful owners and managers in the room are the ones who least need to impress with fancy clothing and bling. Use your judgment, but basically: come as you are.
Advantages of Springfield Rental Real Estate Networking and Training
News: Springfield rental real estate networking and training adds value to your current and future business. We have insider information. Our Springfield networking and training events will keep you up-to-date. You can't find this stuff online.
Strong Connections: Because we focus on buy-and-hold rental real estate, we cover a niche that other Springfield real estate networking and training events can't. Our members learn about opportunities to buy in Springfield before these buildings go on the market. The personal connections you will develop with other Springfield landlords will be invaluable. It's not an anonymous deal factory like Black Diamond, see below. Our attendees actually know one another and can pick up the phone and call each other for help and referrals.
Local laws: What you don't know can hurt you. What you think you know because you read it online can hurt you even worse. There are particular ordinances in Springfield and surrounding communities that don't exist elsewhere. There are different court interpretations and procedures here, too. This is one example of dozens for why you should invest in Springfield rental real estate networking and training.
Examples of Speakers at our Springfield Rental Real Estate Training
Our Springfield rental real estate networking and training brings in headliners like Judge Robert G. Fields, Chief Justice Tim Sullivan, and Dr. Mark Melnik, Director of Economic and Public Policy Research at UMass Donahue Institute.
Comparison with CTREIA/Western Mass REIA
Note that Western Mass Real Estate Investors, which we support, is not the same as Western Mass Real Estate Investors Association.
There are three major differences between MassLandlords-style Real Estate Networking and Training and CTREIA:
We're buy-and-hold investors not flippers and get rich quickers
We charge you to come because we don't make undisclosed money
Each meeting centers around legitimate training designed to meet continuing education objectives
Get Rich Slowly: As buy-and-hold investors we focus on long-term value creation. This means we'll cover things like water submetering and legal compliance. Yes, you can and members often do make deals at our events.
You Pay Us so We Don't Have to Sell You: All MassLandlords events have a "no sales pitch guarantee." This means our speakers don't pay us or sponsor us as a condition of presenting. We sell our real estate networking and training to real estate owners, managers, and investors. We don't sell captive audiences to sharks. Note also that we don't let well connected members or staff with side gigs restrict their competitors from attending or advertising.
Vetted: Our presentations are selected by carefully vetting speakers in advance, often with long phone calls, and by reviewing their slides or giving them slides from our repertoire. We want to make sure that you learn something relevant, and that if you attend enough of our Springfield real estate training and networking events you will become a more successful owner. Our attendees come back month after month year after year.
Local Springfield Knowledge
Our attendees and members invest in all of Greater Springfield, especially Springfield, Holyoke, and Chicopee.
We know Springfield's neighborhoods, including Forest Park, the brick houses of the North End, the South End, Brightwood, and Six Corners. We'll tell you all about how Forest Park was designed by Frederick Law Olmsted, and the history of the Warehouse Neighborhood and how Springfield Housing Authority came to operate there.
Interested in Holyoke? We've got that covered. Come ask us about Main St, new development at the Flats, Gateway City Arts, and the Canal District.
We invest in Chicopee: Aldenville, the Elms, and Willimansett, among other neighborhoods.
And we can tell you about West Springfield, too: Merrick, Mittineague, and more.
If you want to invest in Springfield rental real estate, you want to get to know us at MassLandlords Springfield.
Summaries, Videos, and Handouts from Past Springfield Rental Real Estate Networking and Training
For events in 2018, visit the main Events page and press "back" on the calendar. Past events now remain on the calendar.
June 2019: State Sanitary Code, Economic Opportunity Zones
Click here for the Springfield Code Enforcement Tips handout!
Click here for the Qualified Opportunity Zones presentation and slides!
May 2019: Meet the new Clerk Magistrate, Getting Started with Mixed Use Property
This event had no handouts, but topics do rotate around the state and may be repeated. Check MassLandlords.net/events.
April 2019: Tenant Screening Best Practices, Criminal Records, and Expert Perspectives
Click here for the Tenant Screening presentation!
March 2019: Discrimination and Emotional Support Animals, Ask the Experts

Click here for the Emotional Support Animals presentation!
February 2019: Porch Inspections, Charging Renters for Solar

Click here for the Charging Renters for Solar presentation!
January 2019: More Green for your Wallet: Energy and Business Efficiency

Click here for the Business Efficiency presentation!
Slides are available only for members in good standing who are logged in.
October 2018: 1031 Exchanges, How to Raise the Rent
Click here to learn more about 1031 Exchanges!
Click here to download the Rent Raise form!
September 2018: Tax Cut and Jobs Act, Community Policing
June 2018: Candidates' Night
Click here for more details and to watch the videos!
Slides are available only for members in good standing who are logged in.
May 2018: How Misbehaving Tenants Lose their Subsidies, How a Heartburn Tenant Can become a Heartwarming Story
Slides are available only for members in good standing who are logged in.
February 2018: Judge Abrashkin: Perspectives on a Lifetime of Public Service
Retired Judge Abrashkin, now of Springfield Housing Authority, shared his thoughts on public service. Summarized in the March 2018 newsletter.
January 2018: HAP Housing is now Wayfinders, Use Lines of Credit to Become a Cash Buyer, Trump Tax Reform
Representatives from Wayfinders joined us to talk about the differences between HAP and Wayfinders. They also explained the difference between Section 8 and MRVP subsidy programs. We ended with a longer segment from Andrew Komarow of Talcott Financial based on what we've learned of Trump tax reform. The key message was how to use lines of credit to become a cash buyer in a hot market. Click here to learn more about this meeting
December 2017: Judge Robert G. Fields & Chief Housing Specialist Donna Zundell
Judge Fields reviewed the top mistakes he sees landlords make. Of equal and extreme importance is Donna Zundell, Chief Housing Specialist aka Mediator. Mediation is your last chance to resolve an eviction before you see the judge and all your sins are laid bare. Click here to learn more about this meeting
November 2017: Disaster Show and Tell, Ways to Make More Money
In the Disaster "Show and Tell", Katie Daviau of BayState Restoration motivated each of us to prevent fire, smoke and water damage with many before and after pictures of devastated properties that were restored by BayState. In "Ways to Make More Money," in Doug Quattrochi presented the best tips and tricks we've learned from talking with hundreds of landlords over the years. Click here for full details and downloads
October 2017: The Western Mass. Economy with Dr. Mark Melnik
RHAGS was excited to welcome Dr. Mark Melnik, Director of Economic and Public Policy Research at UMass Donahue Institute, to join us for a discussion focused on the Western MA economy. He touched on the demographic and economic issues in the region, factors that lead an area to grow or decline, lessons to be learned from history and more! Two representatives from the Mass Save program also joined us to tell us how to get up to $250,000 of building upgrades for 90% off. Click here for full details and downloads
September 2017: Notice to Quit Do's and Don't's & Making Solar Work for You
We were very happy to have Attorney Katharine Higgins-Shea from Lyon & Fitzpatrick join us to kick off our first meeting of the fall with a talk on Notices to Quit. We were also very excited for our interview between General Manager of SunBug Solar, Aaron Simms and Executive Director, Doug Quattrochi. Click here for full details
June 2017: Security Deposit Update with Attorney Larry Farber
Are you at risk of triple damages? How can we reform security deposit law? Attorney Larry Farber joined us to talk about the security deposit issue that was highly relevant given the recent movement in both the courts and legislature on the issue. Click here for full details
May 2017: De-leading and Lead Law Changes with Dave Burgess
Lead Expert Dave Burgess, President of Emerald Lead Testing, joined us to dive into de-leading and to give us an update on the new lead laws. Massachusetts has some of the toughest lead laws in the country. However, the lead laws were just recently comprehensively overhauled and many major changes were made which might leave your certification of compliance void! Click here for full details and downloads
April 2017: In the Know – Building Codes & Marijuana
We were pleased to welcome Springfield City Code Enforcement Commissioner Steven T. Desilets to give us the in on how to keep our Buildings up to Code. We were also happy to have Attorney Dick Evans join us to give us a run-down of and an update on Marijuana Laws. Click here for full details and downloads
March 2017: New Leases and Cabinets 101
Our local legal expert, Attorney Katharine Higgins-Shea, joined us to dive into the new lease that she's helped us to form. She delved into clauses, legal language and reasonable accommodation. Every landlord and property manager should know and fully understand their lease agreements in order to avoid problems down the road. We were also joined by Bob Brown and Bill Dryden from Grossman's Bargain Outlet who gave us the inside scoop on cabinetry. They also gave us a huge, landlords only discount! Click here for full details and downloads
February 2017: Serving Notices and Mold Issues
We were proud to welcome the Chief Deputy of the Hampden County Sheriff, Robert Hoffman, to talk to us about serving notices to quit. He recounted jaw-dropping eviction tales and elaborate on common problems. Eviction can be a complex process, learning the best methods of carrying out an eviction will save you time, money and a headache. We were also delighted to have David Charbonneau, owner of Advantaclean, join us to educate us on mold. He answered questions like: How long does it take to get mold? What are the effects of mold to tenants? What issues can mold cause? What are the common causes of mold growth? Click here for full details and downloads
January 2017: Insurance and Evictions
Risk is always an issue as a landlord, but the right insurance plan can help you to manage your risks. Mat Geffin from Webber & Grinell Insurance, educated us on insurance issues, such as: slips, trips, falls, dog breeds, and replacement costs. Executive Director Doug Quattrochi, also gave an overview of the eviction process. It was part 1 of 2, to be continued at the February meeting with a presentation on serving notices given by the sheriff. Click here for full details and downloads
December 2016: Tenant Attorney Joel Feldman
This is unprecedented: an attorney who represents tenants came to speak to us about what he looks for when building a case against a landlord. Attorney Joel Feldman of Heisler, Feldman, and McCormick, P.C. addressed Springfield landlords thanks to long-time MassLandlords.net/RHAGS supporter and landlord attorney Stanley Komack, who arranged for his court rival to present.
November 2016: MCAD Chairwoman Jamie Williamson
The chair of the Massachusetts Commission Against Discrimination returned to her home territory of western Mass to make us laugh, cry, and succeed under our tough discrimination laws. Chairwoman Williamson is a refreshingly accessible and honest public figure and a delight to listen to. She also won the 2015 MassLandlords Good Neighbor Award, for her time in front of landlord groups. Jamie gave concrete advice about what to say or not to say, how to advertise, and how to pass federal and state-funded testing.
October 2016: Candidates' Night
Owners and residents of all regions were welcomed to attend to decide who would be their representation in the state legislature, deciding which landlord-tenant and housing policies make it into law. We hosted Senate candidates for both First and Second Hampden & Hampshire Districts and we asked our candidates to discuss a variety of topics affecting rental housing, including zoning reform, road and rail infrastructure, Housing Court expansion, and landlord-tenant law.
September 2016: Chief Justice of the Housing Court
Tim Sullivan, Chief Justice of the Massachusetts Housing Court, took time to speak to RHAGS at Springfield's September meeting. He spoke about the housing court expansion as well as how best to prepare for appearing in housing court. Chief Justice Sullivan will also answered pre-submitted questions. This was a valuable learning opportunity!
June 2016: Maintenance
Experienced landlord and licensed electrician Norm Lachance shared his tips and tricks for DIY property maintenance. This was a chance to learn from someone who has been there, done that!
May 2016: Ask the Experts
Two attorneys and one 300 unit+ manager were on stage to answer any and all questions attendees could throw at them. We were lucky to have such knowledgeable speakers as Attorney Stanley Komack, Attorney Katharine Higgins-Shea, and Landlord Extraordinaire Sheryl Chase.
April 2016: Fire Safety
Did you know there were 17,395 building fires in Massachusetts in 2014 alone? The three largest causes of fires are things you as a landlord have control over. We were proud to welcome the Springfield Fire Department to discuss smoke detectors, carbon monoxide detectors, and what we can do as landlords to help keep our customers and properties safe.
March 2016: Don't Let the Bedbugs Bite!
Our guest speakers were Shawn Bradley and Rich Smith of Braman Chemical. RHAGS gathered to learn about bed bugs, what to do when a tenant makes a complaint, effective methods on how to get rid of them and your role as the property owner.
February 2016: Legalized Marijuana
On February 11th we learned what the new dispensaries and medical marijuana law means for landlords, tenants, and property values. We also gathered to speculate on the likelihood of legalized recreational marijuana and whether landlords will be able to deal with the consequences of increased personal freedom. Attorney Richard Evans has worked as a member of the National Organization for the Reform of Marijuana Laws (NORML), received its lifetime achievement award in 2011, and shared his perspective on these changing times.
January 2016: Notices to Quit
RHAGS gathered to learn what to do when good tenancies go bad. Attorney Katharine Higgins-Shea spoke about 7-day, 14-day, and 30-day eviction notices.
October 2015: Healthy Homes
At this meeting, the members of RHAGS talked about the federal healthy homes program and the Pioneer Valley Asthma Coalition.
Click here for full details and downloads
September 2015: Ask the Experts
"Ask the experts" about anything and everything. No materials.