Emotional Support Animals
By Peter Vickery, Esq., Legislative Affairs Counsel
Lance Talkington made snarky comments about emotional support animals and ended up in court for allegedly interfering with his neighbors' federal Fair Housing Act rights. Talkington lived in in the US Virgin Islands at Cowpet Bay West Condominiums, which had a no-dogs policy.
Jump to
When his condo neighbors Judith Kromenhoek and Barbara Walters (no, a different Barbara Walters) each brought home a dog and claimed that the dogs were emotional support animals, Talkington made derogatory comments on his blog. He cast aspersions on the validity of the certificates that Ms. Kromenhoek and Ms. Walters had obtained. He suggested that the certificates might have come from one of the "disreputable" websites that would provide documentation without "verifying either the animals credentials or the purported disability." The court report does not say which websites Talkington had in mind, but interested readers with access to Google and a few minutes to spare can get a rough idea of the possibilities.
Seventy-nine bucks for same-day service
Near the top of the list of search results comes the United States Dog Registry where obtaining the basic kit (certificate, lifetime registration, identification card, and tag) is a breeze. You do not need medical documentation from your health provider or a letter from the veterinarian. You do not even need an animal. All you need is $79.
If you are willing to shell out 98 cents more, go to USServiceAnimals.org, site of the "Official Service Animal and Emotional Support Animal (ESA) Registry." For $79.98 in addition to the certificate, tags, etc., this company offers a card containing "legal information about your rights" and the peace of mind that comes from having said rights protected "with the help of our on-staff attorneys."
And you do not even need to provide them with a letter from your physician because the company will take care of that too: "A doctor in our network may be able to prescribe an emotional support animal with only one phone call." Need a doctor's note? Just scroll down and click on the big red button that says, "speak to a doctor now." Need that note quickly? Have no fear: "Our network of independent mental health professionals will get your required documentation today."
A certificate, a lawyer, and a doctor, all for just $79.98.
In any event, Mr. Talkington's online comments, which he made in 2011, landed him the role of one of seven defendants in a lawsuit that commenced in 2014 and concluded in 2017. The trial judge granted summary judgment in his favor, but the Court of Appeals for the Third Circuit reversed, holding that "a reasonable jury could find that there was a causal connection between Talkington's blogging and [the plaintiffs'] exercise of their fair-housing rights." Bloggers beware.
A turkey, a goat, and a pig walk onto an airplane
News stories about emotional support animals tend to focus on air travel. Federal aviation regulations allow passengers to bring their "emotional support animals" on board the aircraft. Unlike pets, they fly free of charge so, not surprisingly, the number of emotional support animals on flights has risen dramatically in recent years, from 481,000 in 2016 to 751,000 in 2017. The variety of supposed "emotional support animals" has risen as well. The list of airborne emotional-support creatures includes a turkey, a peacock, a goat, a large pig, and a miniature horse.
The pig kicked up a stink, as the headline from the Hartford Courant suggests ("Pooping Pig and Its Owner Booted from Bradley Flight"). Within the strictures of federal regulations, airlines are now trying to crack down.
For example, Delta and United now require customers to confirm that their animals can behave in public and provide a health and vaccination form signed by a veterinarian. Based on the story about the pig, this does not seem like too much to ask. Alaska Air requires that emotional support animals be of a size that does "not exceed the footprint or personal space of the guest's seat or foot area" and must be leashed "or in an approved carrier that fits under the seat," which would seem to rule out the larger-breed pigs and, perhaps, most goats. In any event, the airline warns fliers that "the only emotional support animal permitted into Hawaii is a cat or dog."
Hawaiian Airlines "does not accept under any circumstances certain unusual animals." The link to the list of "unusual animals" does not work, possibly because the company is overhauling its policy so as to conform to current regulations, which do not permit companies to declare certain species off limits.
Fight or flight
The industry group Airlines for America has asked the US Department of Transportation to redefine "service animals" so as to include "only dogs that are individually trained to do work or perform tasks for the benefit of an individual with a disability." If the administration does decide to pick this fight, a swift victory over sundry advocacy groups seems unlikely.
The challenge facing airlines also confronts landlords. Tenants with disabilities are entitled to reasonable accommodations. This is not news. Nor is it news that the reasonable accommodation may come in the form of a service animal, even if the property owner has a no-pets policy. Landlords know that if they customarily prohibit animals of all sorts, they have to make exceptions for trained service dogs that perform tasks for tenants with disabilities.
But does an animal qualify as a service animal for landlord-tenant purposes when it has no special talent (e.g. an amiable but essentially unskilled miniature horse) and its role is simply to provide emotional support? Having read about Lance Talkington's experience at the Cowpet Bay West Condominium you can probably guess the answer.
Under the federal Fair Housing Act and the regulations that implement it, housing providers must provide equal opportunity for each tenant with a disability to "use and enjoy" the dwelling.
In 2013, the Department of Housing and Urban Development (HUD), which enforces the federal Fair Housing Act, issued guidance on the subject. HUD stated that although the Department of Justice had interpreted the Americans with Disabilities Act (ADA) so as to exclude emotional support animals from its definition of "service animals," HUD would interpret the Fair Housing Act (FHA) so as to include them. So far as HUD is concerned, a reasonable accommodation under the FHA includes emotional support animals.
According to the HUD notice, if a tenant whose disability is not readily apparent claims to need an emotional support animal, the landlord is entitled to ask for "reliable documentation" from a physician, psychiatrist, social worker, or other metal health professional as to the disability and the "disability-related need" for the animal. They may not ask for access to medical records or for "detailed or extensive information" about the mental impairment.
As for showing that the animal is "necessary" for the tenant's enjoyment of the premises, landlords may ask for evidence that "that the animal provides emotional support that alleviates one or more of the identified symptoms or effects" of the disability. Some appeals courts have upheld this extremely generous interpretation of the word "necessary." If a tenant can show that the animal alleviates an effect of the mental-health condition, then the animal is "necessary." In this context, the meaning of "need" grows somewhat fuzzy.
As parents sometimes grow tired of explaining, especially around the holidays, there is an important difference between want and need. "We fully appreciate that you want the Xbox One/every single item in the American Girl Doll catalog/a pony [delete as applicable] but we do not believe that you need it." It may come as some consolation that offspring's failure to understand the want/need distinction will not prevent the little moppets from becoming either the authors of HUD notices or appellate-level judges.
Beasts and burdens
Under the FHA and the Massachusetts state-law equivalent, G.L. c.151B, an accommodation must not unduly burdensome, i.e. must not impose undue financial or administrative burden on the landlord.
If the landlord can show that the animal in question poses a threat to other tenants, then that danger may outweigh the disabled tenant's need for a reasonable accommodation. However, landlords cannot get away with blanket general assertions against certain species or breeds: the danger must be particularized. It is not enough to say that ferrets foment fear, pythons perturb, and bull-terriers bite. Instead landlords need to make individualized assessments for each animal.
Conclusion
Even if your rental property has a no-animals policy, your tenant with a non-obvious disability (e.g. behavioral-health issues) has the right to seek an exemption in order to keep an emotional support animal on the premises. That said, you can and should ask for "reliable documentation" from a physician, psychiatrist, social worker, or other metal health professional that the tenant has (1) a disability and (2) a "disability-related need" for the animal. If you can show that the animal in question would impose an undue burden, you may still be able to enforce your no-animals policy.
Service Animals are Dogs but not Pets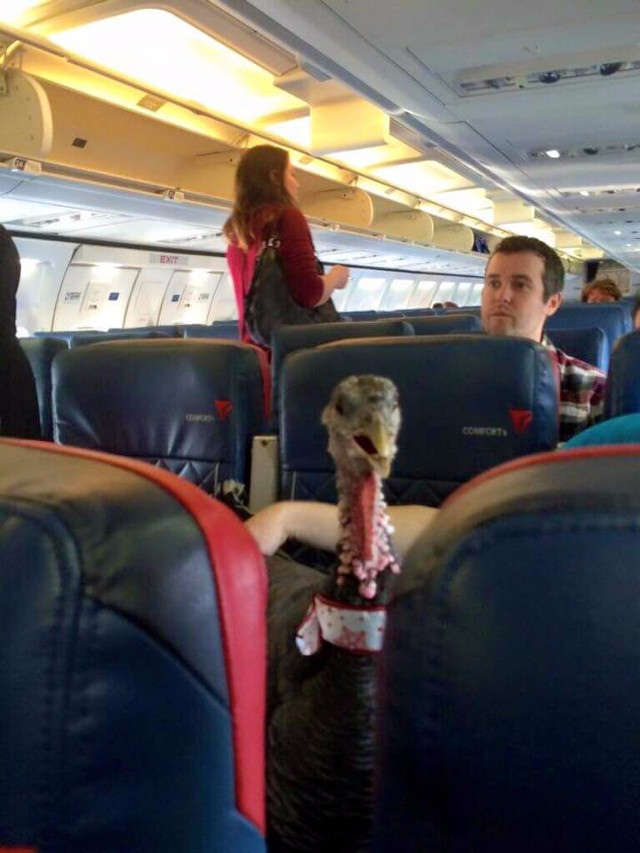 An airline passenger made news in January for taking their "emotional support turkey" onto a Delta flight. Here's what landlords need to know.
Service animals are trained for specific tasks with specific people. For instance, a guide dog helping a visually impaired person into a subway is a bona fide service animal.
This is different from a pet. Anyone can buy a cat or give it away. Service animals and people are paired up together. The person travels only with that specific dog, and that specific dog helps only that person.
Businesses that have a "no pets" policy must be careful not to appear discriminatory. Service animals are not pets and must be granted reasonable accommodation. You cannot discriminate against someone on the basis of their disability (Federal law). You can only turn away their request if unreasonable.
An example of a reasonable request: "I need my service dog to live here with me so I can move around the apartment. It is licensed and friendly and I will clean up after it."
An example of an unreasonable request: "I need my service dog to have a gold-plated dog house that you will pay for at a cost of a million billion dollars."
Since March, 2001, only dogs have been recognized under the law as a "service animal" (search for this term and you will find the definition at this link).
Emotional Support Animals Can be Dogs, Might be Turkeys
People with emotional disabilities are also eligible for reasonable accommodation, and unlike service animals, emotional support animals can be any kind of creature.
The federal government specifically refuses to recognize emotional support animals as service animals. This means fewer places are required to accommodate ESA's. But airlines and housing are two of the major areas singled out.
Cats, dogs, ponies, pigs, and turkeys have all been identified at one time or another as essential life companions for the disabled. These must be allowed with proper documentation.
To learn about the documentation required, visit our page on reasonable accommodations.
Dogs Cannot be Declared Dangerous based on Breed
Dogs in Massachusetts have their own discrimination protections. Landlords and insurers cannot refuse to rent to a dog because of its breed.
The Acts of 2012, Chapter 193, Section 32 states that "no dog shall be deemed dangerous: (i) solely based upon growling or barking or solely growling and barking; (ii) based upon the breed of the dog; or (iii) if the dog was reacting to another animal or to a person and the dog's reaction was not grossly disproportionate to any of [a long list of] circumstances."
This means that insurers can't refuse to insure you because of a dog breed. And you, therefore, cannot refuse a service animal or emotional support animal for fear of your insurer.
We now have an answer to the question, "What about a seeing-eye rottweiler?" The answer is, "Landlords must allow it unless that specific dog has a history."
Now Everyone has an Emotional Support Animal!
Under Massachusetts law, it's relatively easy to get the paperwork required for an emotional support animal. We may say we need a doctor's note, but actually a wide variety of sources can provide legally binding documentation.
Any of the following can prove a disability requiring an ESA:
Treating Physicians/Psychologists
Clinic and Hospital records
School records (IEP, IQ evaluations, etc.)
Consultative Examinations authorized by the Department of Developmental Services

by panel physicians/psychologists
by attending physicians/psychologists

Non-physician health care professionals (e.g., licensed clinical social workers)
Any of these data sources can require you to allow a tenant to have an ESA in your no-pets apartment.
Landlording Best Practices
In advertising a "no-pets" apartment, say "no pets (SA's/ESA's allowed)." Someone with a service animal or emotional support animal will know what you mean by SA/ESA and won't feel discriminated against.
When asked if you allow pets over the phone, don't prompt the tenant to go get an emotional support form from a corrupt doctor or social worker. Tell them "yes, with appropriate paperwork." If they are legitimate, they will know what you mean. If they are trying to abuse the system, they will produce only an animal license at first.
In setting the rent for an apartment where different candidates have different accommodation requests, remember that you can negotiate the rent up or down to compensate you for legitimate extra expenses. Be very careful. If you can't produce receipts showing your additional expense, you could be found to be discriminating.
Whatever you do, be fair, and keep a paper trail!
Related Articles
Past Presentations
Webinar: Emotional Support Animals
Slides are available only for members in good standing who are logged in.
Discrimination and Emotional Support Animals
Slides are available only for members in good standing who are logged in.
Video: Emotional Support Animals with Carl W. Lindley Jr.
Slides are available only for members in good standing who are logged in.
Speaker:
Carl W. Lindley, Jr. - Carl
Moderator:
Richard Merlino - Rich
[Start 0:00:00]
Carl: Thank you, Doug, and to the members here.
We'll right at it. Emotional support animals, I want to start with kind of just giving you what my goal is for today, which is not to give my personal opinion as to what emotional support animals are or whether it's appropriate or not.
But this is the general advice that I give to all landlords is if you're going to play the game, you have to know the rules, and if you play golf, you certainly know here we got two stakes. This ball is out of bounds. You're getting hit with the one-stroke penalty, and it makes no sense at all, right, because if I hit this out there, if it landed here or here, I can make my next shot.
It's the same thing with being a landlord and with emotional support animals: you just need to know the rules so that if you get stuck in a situation, you know what the penalties can be and what's an appropriate step to take. So often, I find landlords that are in the out-of-bounds area and can get a free pass but won't take it because they think I can just take this next shot and it will be okay. Really, the goal for tonight is to learn the rules of the game regarding emotional support animals.
First thing is I just want to let you know I'm a landlord myself here in Worcester County. The annual cost of having a dog or a cat are at $2,000. I think that's probably pretty cheap. The people that I know have dogs. We got a cat and a couple of fish. Every time my wife comes home, it's another toy or something, but that's another month or two of rent, so it's a real cost that your tenants are taking on to have this emotional support animal or whatnot.
Also the landlords were bearing the costs of what damage that animal can cause and often I hear, "Well, the tenants are always responsible for the damage that their animals cause." Yes, that's true, but they probably don't have the ability to pay you anyway so you're going to get stuck with the bill at the end anyway.
When we talk about emotional support animal s, it's not just one law that says you have to allow an emotional support animal. When I first started practicing law, I started here in Worcester doing insurance defense for sports and entertainment facilities and I thought, "You know it would be easier," as I was starting my family at the time, "I'll just represent some landlords. That will be easy enough. I'll build that practice."
This is just one area of the whole landlord tenant law, and this takes into account the Fair Housing Act, the Fair Housing Act as amended. General Law 151B, this is the Massachusetts Discrimination Law. Another discrimination law, General Law Chapter 93, you probably hear a lot about 93A, but 93. The justice department, they issue advisories. Down in Washington, they're writing up advisories as to what they think these laws are and how you should behave.
Additionally, the MCAD, we talked about that, so we've got like a quasi-governmental agency that's set up that just to hear discrimination claims, and they're adjudicating these claims. Now if you don't like what's going on at the MCAD, maybe you'll get the case kicked to state court or to federal court, and so there's decisions there. HUD, they're creating their own regulations and putting out memos and things such as that. Other laws, the Americans with Disabilities Act and then finally I got the Code of Federal Regulations.
[0:05:00]
These are just some that I thought of off the top of my head is that I was going through and creating this presentation, I'm sure there's more. People will say, "What's the law around this?" It's we've got to look at a lot of different moving pieces here to get at it.
All right, so what are we talking about when we're talking about emotional support animals? The overriding piece is housing discrimination, and an emotional support animal is just one cause of action that would come up in a housing discrimination case, so you would say, "All right, the landlord didn't allow me to have this emotional support animal. I'm going to go to the MCAD or I'm going to go court or I'm going to go a lawyer," which reminds me of Doug's topic there, which is (1) attorneys are not a protected class, and I always tell my clients do not rent to attorneys. I wouldn't rent to an attorney and that's my advice to you.
But this not allowing an emotional support animal is if you don't go to court and say I wasn't allowed an emotional support animal, you would go to court or to the MCAD and say, "I was discriminated against in housing based on a disability." They'd say, "Well how did they discriminate against you?" They didn't allow my emotional support animal."
You should all know what would that tenant have to prove in order to win that case. First is they have to prove that they're handicapped, so if the tenant is not handicapped, that's the end of the of the game. Then they have to prove that the landlord was aware that they were handicapped or could have been aware that they were handicapped.
If you see me, you might say, all right, there is no obvious impairment there, I hope. But if somebody's impairment is obvious, then you can't say, "Well, I didn't know." Then they're going to have to show that the accommodation sought was reasonably necessary to afford the tenant an equal opportunity to use and enjoy the premises. Finally, that you didn't make the accommodation. That's the tenant's case against the landlord. This is everything that they're going to have to prove.
All right, question 1 for you. Do we all know who this guy is?
Audience: [unintelligible 0:07:55]
Carl: All right, [unintelligible 0:07:57]. Question 1, what does it mean to be handicapped? Because if we go back here, the first thing I said they have to prove is if the tenant is handicapped, but what is that? What does it mean to be handicap? A handicap is a person with a physical or a mental impairment, anyone know the impairment has to substantially limit one or more major life activities, that tenant has to have a record of the impairment, so there's going to be some documentation there that they are impaired, or the person is perceived as having this kind of impairment. If you believe that they're handicapped, that's enough.
It does not include current illegal use or addiction to a controlled substance, so we get into this issue of I'm an alcoholic or I'm a drug user. That can be a disability, but it's only if that was happening in the past. It's not, "Hey, I'm a current drug user or a current alcoholic."
All right, so service animals, so the Code of Federal Regulations implementing the Americans with Disabilities Act, identifies service animals. It says, "Service animals, generally a place of public accommodation shall modify their policies, practices, procedures to permit the use of a service animal by a person with disability."
Service animals, what's a place of public accommodation? Do we all know who this guy is?
[0:10:07]
Audience: [inaudible 0:10:08]
Carl: All right! We got [unintelligible 0:10:11] in the house. What's a service animal?
[0:10:18]
Audience: A dog.
Carl: A service animal means any dog, just dog. Service animal means any dog, any dog that's individually trained to do work or perform tasks for the benefit of the individual with the disability. That can include physical, sensory, psychiatric, intellectual, or other disabilities. Other species of animals either wild, domestic, trained, or untrained are not service animals. Service animals are dogs.
The work or task performed by the service animal must be directly related to the individual's disability. Examples of work include assisting those who are blind or have low vision, alerting those who are deaf or hard of hearing, providing nonviolent protection or rescue work, pulling a wheelchair, etc. You get the idea.
What's not? The crime deterrent effect of the animal's presence and the provision of emotional support, wellbeing, comfort, companion do not constitute work or tasks for the purpose of this definition, so that's a service animal.
We've all heard of these minihorses, right? Hold on a second. We just looked at the definition. The definition of service animal is a dog. If we looked somewhere else in the law, they throw in this mini-horse piece. Minihorses, a public accommodation shall make reasonable modifications and policies to permit the use of what? Of minihorses. Good grief! If the minihorse has been individually trained to do work or to perform the tasks to benefit this.
We're up to two animals. We're up to dogs. We're up to minihorses as service animals. If we look further at this law, minihorses, we're going to take a look at the type, the size, the weight of the minihorse, whether the handler has sufficient control, whether the horse is housebroken, and whether it compromises safety. All right, here we go. We're up to minihorses.
What else does the law tell us about these service animals? (1) It's got to be in control. If that animal is not in control, nope. The animal is out of control, the handler doesn't have control of it, the animal is not housebroken, we can ask the individual to remove that service animal. It just goes into greater detail. Really, it's got to be on a harness, on a leash or a harness. Lastly, having it on a leash or a harness interferes with its ability to do whatever it's supposed to do. If you can't have it or a leash or a harness, okay.
It seems to be getting better for us. Public accommodation, you're not responsible for the care or supervision of the service animal.
All right, this is getting better. What can you ask? All right, so all we can ask if we're at a public accommodation is to ask if the animal is required because of a disability and what work or tasks the animal does. We cannot require documentation such as the animal has been certified, trained, or licensed as a service animal.
Audience: [unintelligible 0:14:38]
Carl: Where can we go? Access, anywhere that the general public can go, the service animal can go. We can't say, "Well, we'll give you some access but not 100 percent." No, it's 100 percent.
[0:15:03]
Can we charge you because it's a problem for us? No. If people with disabilities were charged every time that they have to go and do something, that wouldn't be fair. People are supposed to be able to just because they're disabled, use and enjoy the property just the same as everybody else and just the same as everybody else means just the same as everybody else not for an extra $10.
Hold on a second. Emotional support animals is what we're talking about, not service animals. There is this distinction that they've drawn now. There is these service animals that we've just went through, and there's emotional support animals, so now let's take a look.
Service animals, those are in places of public accommodation. What would they include? Your rental office, your community room, so any place that's open for the public, that's what the ADA gets at. The ADA is worried about places that are just open to the public.
Fair Housing Law, as a general proposition, prohibits discrimination based on disability. Then what does that lead to? If I can't discriminate based on disability, that then creates this obligation that the landlords do something, the landlords have to make a reasonable accommodation.
Anyone know this guy? Who do we got?
Audience: [unintelligible 0:17:01]
Carl: Who?
Male Audience 1: Gene Rayburn.
Carl: Gene Rayburn, all right. What is a reasonable accommodation? Reasonable accommodation is one which would not impose an undue hardship or a burden on the entity making the accommodation. These are modifications to rules, policies, practices, services, etc., so that people with disabilities can reasonably live in and enjoy the premises.
These can include structural modifications to buildings, etc. That's really not for today, but as a general proposition, it's just a change to a rule, a policy, practice of service, right? If the rule is no pets, the reasonable modification for someone who's disabled is to allow an emotional support animal.
What is an emotional support animal? They're not trained. There's nothing that they have to do. They make you feel better. Maybe they make you feel better. Maybe they make you feel worse, but it's just an animal that you have for the sake of having a pet. That's an emotional support animal.
I went and did a little digging here. I found this from the American Psychological Association. What was interesting about this paper was it was called, "The Emotional Support Animals Rule and Conflicts in Professional Psychology." The professional psychologists were a bit nervous if you will, this is what the paper expresses about kind of being put in this role of people calling them up and asking, "Hey, can you write me a letter that I wanted to have this emotional support animal?"
Certainly people will do it, but like in any profession, there's going to be good psychologists and psychologists who write the letter to get you out of the office, right? Their real concern was and they're only supposed to be writing stuff that has a sound basis in science. There is this underlying assumption that says by many professionals and people that the pets make us feel better, but it's just an assumption. That's not science. Science is something that can be tested, etc. Just using your human experience, yes, if I had a pet, I think about my little dog, yes, that's great. He's licking my face, whatever. But it's not based in science.
[0:20:28]
Also, I mentioned the strong media bias because it's great to do a story about the dog or whatever that helps the man in trouble, but some of the studies that were done showed in fact there was no impact or in fact a negative impact on mental health and does not make a good story.
I put this in here as well because when we talk about reasonable accommodations, the keyword there is reasonable. What's a reasonable accommodation? What is stacked against the landlords is this: the perception and the idea that people already have a right to have a pet in some housing. In elderly housing and in certain federally funded housing for elderly and disabled, they have a right to have a pet, so not an emotional support animal, not a seeing-eye dog, just have a pet because our politicians have decided that who wants to be against pets? That's not a good policy position to have.
It's going to be hard when the legislature and the law has already said it doesn't seem like that big of a burden to already have a pet, and in fact, we're going to force some landlords in certain situations to allow pets just for the sake of having a pet.
When we're doing our reasonable accommodation, I often hear people will say, "I just treat everybody the same. In that way, I'm not discriminating against anyone. Well, that's not what we want you to do. The goal isn't to treat everyone the same; in fact, people are going to be treated differently, but in the end is to get them the same thing. What's the end goal? The end goal is to allow people to use and enjoy the property.
If someone can't use and enjoy the property because they're disabled but having this animal allows them to use and enjoy the property, then that's the goal. You end up in a situation right where Tenant A, you tell him, "Hey, I can't have a dog." Tenant B, "Hey, I just saw she's got a dog. All right, that's not her pet. That's her emotional support animal."
Can I require the tenant t make this request in writing? I give you two different answers here, really. The first thing that I want you to remember in all discrimination or in all request for reasonable accommodation, and this may include the service animal. It may include lowering the kitchen cabinets down because "I'm in a wheelchair." It may include any of the things that someone asks for a reasonable accommodation is there's no magic words or forms that a tenant has to fill out to make a reasonable accommodation. You just, as a landlord, have to be on notice that they're requesting a reasonable accommodation.
When I litigate these cases or I'm at the MCAD with them, I always want you to behave as though we're today we're at the MCAD and now you're under oath and they're putting the pressure to you when he said, "Hey, I got Fluffy who is my support dog," did you just brush over that or did you take the appropriate steps? It's one thing to kind of fluff over it when you're talking to other landlords and doing things like that, but ultimately if push comes to shove, at some point you're going to be under oath and I want you to behave appropriately so that you've taken the right steps.
[0:25:15]
If somebody suggests at all that they need a reasonable accommodation for anything, don't freak out. It's okay you haven't done anything wrong yet. We'll get to what you have to do. Once you're on notice that a request has been made, all you have to do, the first thing you have to do is engage in this interactive dialogue. That's the fancy word that the MCAD uses to say talk to the person. That's all that it is, and when I do this, I'll do it for a landlord if the client calls me up and says, "Oh, my gosh, Carl. They requested this. What do I do?" You get all kinds of different requests, but the tenant wants new carpets. The tenant wants this and they're saying it's because they're disabled.
First thing I do is might write them a letter that says, "I represent Larry Landlord, and I understand you made this request." The purpose of my letter is to do what? To engage you in the interactive dialogue. I remember a case that I had and the landlord had taken a few steps first and then called me and I sent off that letter. It was after they got hit with the MCAD complaint. As soon as the MCAD complaint came in and I got it from the client, I sent the letter and said, "I represent the landlord and I'm here to engage you in the interactive dialogue."
At the hearing, they thought that was their aha moment, so he pulled this out and said, "See? After I complained about this, the attorney sends me this letter, saying he's engaging me in the interactive dialogue."
The MCAD shot him down right then and said, "Listen, I'm not going to penalize the landlord for doing what they should do." Now, they might not have done it at the exact moment they should have done it, but no that doesn't count. Attorney Lindley is doing exactly what he should, which is he wrote to you to engage in the interactive dialogue, but you thought you had him, so you wouldn't engage." Okay, that's fine. At this point, the person had said, "Hey, I need the service animal, whatever it might be."
Your role is to talk to them. Now as part of that talking, we might need some documentation because if the person says, "Hey, I'm disabled and I need Fluffy the Wonder Dog." Okay, but if you don't appear disabled, I'm going to need some documentation for that.
When you're engaged in the interactive dialogue, so many of them come in and you give them the eye roll like this is nuts, but don't because if it is a species claim, it's better to have said, "Listen from the get-go, I gave him the chance. I took it seriously." You got to be on these things timely, too, because they'll hate you. The MCAD will hate you for not following up in a timely fashion and just letting it sit out there and kind of doing the ostrich thing of, "Hey, hope this just goes away."
It won't go away. The problem isn't going to go away, so always be following up, always be bouncing the ball back to the tenant if there's something that you need and document this stuff. It's a pain, I know, but document that, "On April 15th, I had a conversation with the tenant and she requested an emotional support animal, my reaction was I engaged her in an interactive dialogue. We used that language right in my notes, engaged her in an interactive dialogue and asked her to supply blah, blah, blah.
If it's obvious disability, you can't request. We can't play that game of, "Hey, every time the guy in the wheelchair comes around, let me see your note." We're not going to make it difficult.
[0:30:05]
If the disability is not obvious, great! You can request what you need to verify. Verify what? Can I request to see all of their medical records? No. You can only request enough to verify that the person meets that definition of disability. Disability what? Has a physical or mental impairment that substantially limits one or more life activities. Unfortunately, that's a letter from the doctor that says, "Susie Smith is disabled, has a physical and mental impairment that substantially affects one or more major life activities," and that's probably all you're going to get. But you can request that. Make a doctor or we'll come to who can do it get that documentation.
It has to be a relationship between a person's disability and the need for an accommodation. This really comes up in some other areas. It's a lot harder in the area of emotional support animals, to say because, "The emotional support animal really is it just makes me feel better. It helps me get out of bed. It helps me in my day-to-day life, and it helps me to enjoy things."
Where this comes up, I had a recent case where somebody had requested new flooring throughout the apartment because a child had a condition where they would eat things. I'm like, what's the connection? If it's a hardwood floor versus a carpeted floor, do they not eat off one or the other? They could never make that connection. But really for emotional support animals, that's not where the fight is.
Who can give you this documentation? A doctor, a psychiatrist, a social worker, any of these mental health professionals can, or just documentation that the tenant collects social security disability. They're social security disability, they're disabled.
Can I deny the request? Sometimes. If he doesn't meet the definition of handicap, if there's no relationship between the emotional support animal and the disability, if the specific animal poses a direct threat to the health, safety of others but it can't be eliminated by another reasonable accommodation, so you get reasonable accommodation on top of reasonable accommodation, or the specific animal would cause physical damage and again can't be modified, reduced, or eliminated by another reasonable accommodation.
I was asked to talk about the scam websites that are out there. I've seen them. We've gotten the letters from them. A couple of things I'd say about them. I went on one, and according to them, I'm in need of an emotional support animal. I answered all of the questions. I had 48 questions. I answered them all in the negative. Question 1, "In the past 6 months, have you had a traumatic event in your life?" No. "Have you been diagnosed with a mental illness?"
No. for every question, all 48, I answered no. Nothing bad has happened to me. Everything is fine. I have no issues. Everything is wonderful. at the end, the computer ran its little thing and there were things floating up and down and things were calculating themselves. At the end, it said, "Congratulations! You're a perfect candidate for an emotional support animal!"
Audience: [laughter]
Carl: To me, it's clearly a scam. I don't hold out much hope, but I would hope the attorney general would look into this because it's hurting landlords, but it's hurting people who need emotional support animals, and it's hurting people who need service animals, right? Because when everybody is scamming the system and these are just companies that are just scamming you for anywhere between $29 to $99 to get the letter.
[0:35:16]
But treat them just the same. "We know. That's a scam, but I'm going to treat the letter just the same, and I'm going to work through it just the same." It would be one thing to get whacked on a case where the person had a real issue, but wouldn't it be even worse to know you're getting scammed and then not treat it seriously and then get whacked on that? That would really ruin your day. Just treat it the same. Treat it seriously, but we all know that some of these are just terrible.
I'll talk to you about this recent case, MCAD and Clark versus New Bedford Housing Authority. First thing that I want to point out to you is the timeline to this. Complaint filed in 2011. Two years later they make the first decision in June 2013, and then this final decision of the whole panel came out six years later. There are no winners in this. It's great that this case was from the New Bedford Housing Authority. I'm sure they have staff attorneys on that are being able to do this, but if you've got three units, six units, whatever, do you want to spend the next eight years litigating this? No!
We just want to identify these things and keep out of trouble. It was great that they won and we'll go through it a little bit, but often I get these calls from landlords who are so gung-hu and they're going to fight the fight and they're going to, "Carl, we're not going to let them get away with this this time." I'm like, "All right, I'm onboard. Let's go, but that's your fight, that's your money. Do you really want to do that?"
If you have some, fine, obligation or calling to be in litigation in eight years to prove a point, great! But the way that I practice law is I'd rather just have you avoid these situations than be the test case on them.
What was this case? This was a case in which the tenant wanted a pet ball python, then they filed an eviction case, and the tenant had agreed, "All right, I'll get rid of the pet snake and allow inspections for the pet snake as a part of the eviction case." Then decided, "You know what, it's not a pet snake." In fact, she for a little bit claimed that it was a part of a religious claim, religious discrimination she was working, and so this pet ball python was a part of that. That got dismissed out pretty quick. But she kept on, "Hey, it's a reasonable accommodation."
I think a lot of landlords' gut reaction would be, "Listen, that's crazy talk. Get out of here." But the landlord did the right things here. They engaged the person in their interactive dialogue. They talked about the pet snake. "Hey, what are you going to do with the pet snake? Where do you keep the pet snake? How do you do these things?" What did they learn? "Oh, I feed the pet snake dead rats. I do take the pet snake out at times." You can't have a pet ball python without letting him strap its legs, so they would take him out and let him do his thing. All of those things really made the landlord's case even better.
Then they did request documentation from the doctor and sure enough, the doctor wrote a letter that said, "Yes, she is disabled and," part of it was, "the shedding of the skin made the tenant feel it was a new beginning to her."
Audience: [laughter] [crosstalk 0:40:01]
[0:40:01]
Carl: Yes. The landlord didn't stop there. The landlord called that doctor and said, "Let's talk about this, Doc. What do you mean?" Just like I said, it's so easy to write that letter. It's so easy when push doesn't come to shove, but we can push back up on the doctor, "Doc, let's talk about this ball python." The doctor, according to the landlord, kind of backtracked and said, "Well, there's really no connection that I can make, but if you took the pet away from her, if you too her snake away, that's really going to upset her."
"Okay, thanks, Doc." They documented those notes and the MCAD agreed and they put forward also that a ball python, if it got loose, that would scare the other residents and it might carry disease, but as I was repeating this, one thing came out. They said, "The tenant wasn't able to show that this snake didn't carry salmonella, there was no expert about this and yadda, yadda, yadda." But oftentimes, that will get turned on you, so the example that I'm thinking of is the pit bull. You say, "Hey, you want a little dog?" That's great. I'll allow that, but nobody ever wants a little dog. They want a pit bull. They say, "Hey, that doesn't seem reasonable."
Well, there's cases out there that say you can't pick the type of dog that it is. There was this whole case that talked about while the landlord couldn't prove that that was a pit bull. It gets frustrating. There was a criminal case that talks about pit bulls where the police are going on these no-knock warrants, and they say, "Well, pit bulls are inherently dangerous animals, so we need the no-knock warrant." I said, "Jeez, that seems like a great argument. We can't allow pit bulls because the courts have already agreed that pit bulls are inherently dangerous animals," but it hasn't held up. When they let me make the rules, then it will.
As I was saying, these are the things that that landlord did right. They engaged in the interactive dialogue. They requested information. They documented it. Then the landlord was able to articulate, "Hey, I got reasonable concern that this snake has salmonella or could, have ticks and mites and getting out, feeding at dead rats." They were able to document all of this.
This is a cautionary tale, too, is if they had just skipped to the end of, "Hey, that ball python is not reasonable. It's over." Without doing that work, they could have ended up in the same place, meaning the court could have said, "You know what, it is not reasonable for you to have your ball python, but Landlord, I'm going to penalize you because you didn't engage in the interactive dialogue and that was required, and so I'm going to hit you with a penalty or a fine, or something, just for not doing what you should have done."
Now you've got your emotional support animal and can you put restrictions on there? Absolutely! If I'm going to have an emotional support animal on one of my properties, I'm going to identify the animal by name, breed, age, photo. I want to know who that dog is specially at the bigger complexes, so if the dog is out, I know that's your dog that's out. That's your animal that's out. Prior to having them there, you can say, "Listen, you got them treated for fleas and ticks, under control of you at all times, no jumping on residents, no aggressive behavior, so it can't be just be, "I got him on a leash and every time you walk by, it's 'Ra! Ra! Ra! Ra!'
Nope! No disturbing quiet enjoyment of others. No barking at the property, especially the letter that I write, when you're not at home, so you go to work and the dog goes nuts; then when you come home, everything is fine. You got to clean up after him. The animal has to be vaccinated and licensed, and tenant is responsible for all damages caused by the animal. Those are the types of restrictions that you can put on these emotional support animals.
[0:45:18]
All right, some of the cases that we found, this one HUD with a New York landlord. It was a $15,000 penalty for not allowing an emotional support animal, this one twice as much in Massachusetts at $30,000. This is something that you should know about as well, which is you see here, MCAD case, $25,000 to the tenant, $5,000 to the MCAD. In all cases at the MCAD, whether once you're there, if you settle the case or you go and you have your hearing, if you lose or you reach a settlement, there's going to be two things: there's something in it for the tenant, the tenant wants his money and to have their dog. There's something in it for the MCAD because they don't have the discretion to say, "No. Listen, you pay them $5,000 enough and that's enough."
There's going to be something in it for the MCAD whether that's appropriate or whatever, but that's again slide 1. I'm just teaching you the rules of the game. Now that doesn't have to be money, but it has to be something, so I've had cases where I'll say, "The landlord will draft the policy of reasonable accommodation that will be reviewed by the MCAD and implemented." Something has to be in the public interest.
Now my wife said I shouldn't use this one, said it was a little scary…
Rich: I've always wondered who came up with that expression.
Carl: [laughter] More than one way to skin a cat. Should I just allow pets? If you allow pets, you can restrict the breed. No pit bulls if you don't like pit bulls. I can limit the size. I can require insurance. I can charge increased rent. I can do all of those things if it's a pet.
This is kind of just a throw in, which is that, so service animals, if you're training a service animal, you're allowed the same protections as if you're disabled, so you could just take home a service animal to train and it's the same obligation.
All right, here's breaking news for everybody. Everything I said might be off the table because HUD hasn't put this out yet, but it's being reviewed, a document titled, "Applying the Fair Housing Act to decide whether a person's request to have an animal as a reasonable accommodation should be granted." They just put that through on March 21, 2019. They tried this about a year ago. It went up for review, and then it got pulled back, and just on the 21st, they must have made some edits, and have put it up for review again.
We don't know what's in here and we won't know. Disability advocates and housing advocates have specifically asked to see the document and have been rejected, so when HUD and Fair Housing does a document like this, it's really attorneys looking at the law and interpreting the law and then generally putting out a memo to us that says, "Hey, this is how you should behave." It's not the law, but if I was being sued and I said, "Hey, I followed this thing that was put out by HUD, even if I'm wrong and the attorneys at HUD are wrong, I'm not going to get hit with much."
[0:50:04]
What is speculated to be in this is a couple of things, (1) addressing the scam of the online service animal, (2) addressing the need of multiple service animals, so, "I don't need just one dog. I need two dogs and a cat." When this latest administration took over, the head of HUD, who does this was keyed into this as being a troubling area. And so, they tried it once. They're doing it again, and my understanding is this gets circulated amongst a lot of just different federal agencies that read it, and then give their feedback, "Yes, I agree, or this is wrong about it, or whatnot." Then it will be put out.
The last one that was put out regarding service animals was probably in 2004, so it's been a while, so hopefully this will give us some guidance and address those issues.
Rich: All right, so I mean everybody in this room obviously is still having the same thought. Our heart goes out to Melinda with her ball python [laughter]. Who doesn't want to put their python on a leash and take it down to the python park, all the emotional good that [laughter]. That was a really funny example. Actually, I really liked all the animations of the slides. Did you put that together yourself?
Carl: No. I have three children. My oldest boy in high school, I tasked him with animating things for me and picking out pictures, so that's why we ended up with our RHQ [laughter].
Rich: Got you! It sounds like legislators are not going to take an anti-puppy and anti-kitten stand on things, so we're not going to get any help there, but it sounds like there might be positive news with that last, the HUD thing that you had mentioned, right?
Carl: Correct.
Rich: Where we're kind of crossing our fingers about that. We're going to open it up to questions, but I will just say I'm going to make an official announcement. If I ever run for office, like if my morality is just confiscated from me and that suddenly becomes a plausible thing to do, I will run on the anti-kitten platform and I will make sure that we have laws about this stuff. Who has questions for Attorney Lindley? All right. Don't take it too personally. I'm going to go to Jane because she's closer.
Jane: Our condo association of 12 units has in their bylaw "no dogs." Is that legal?
Carl: No.
Audience: [laughter]
Carl: Condo associations, the other thing that I will say about condo associations is so many of their bylaws were done in the '80s and maybe even a little before then, and they were done 30-something odd years and never touched. Last year, I had a condo association case in which I had an elderly woman, who was a minority who worked her whole life, buy one condo unit in Springfield, Massachusetts. One condo unit. She's worked her whole life, probably paid less than $50,000 for this: one-bedroom condo unit.
Her neighbor says, "I got somebody who's coming up and they need a place to stay." At this big condo complex, there was another unit that was for rent, and she says, "You know what, I'll go rent that out unit. Sure, I'll rent this out. This will be good for them, and I can use that other unit." She does.
Then what happens? They move in the kids, three kids in a one-bedroom apartment for now and they had a rule that said, "For one-bedroom apartments, no more than three people or whatever; for two-bedrooms, no more than five, whatever it is." She gets the nasty letter from the condo board, "Dear Susie Smith, There's more tenants living there than the condo rules allow." Goodness gracious! She sends off her own notice, "You got to get rid of these kids. They're not on the lease." Sends off the notice to quit, and sure enough she gets sued for discrimination.
Even though it was in the condo rules and the condo regs, it doesn't matter. The individual owner was liable for their actions, taking actions against families with children. The condo association was liable, and so yes, you can imagine that scenario of now I got a person of not a lot of means who's worked their whole lives for this and is at retirement and now I've got some attorney coming in and saying, "Hey, Miss, you're discriminating against these people. It's a terrible situation."
[0:55:55]
We ended up getting the case settled, resolving it quickly and then eventually evicting these folks for other reasons, but yes, it's terrible.
Rich: A question right here.
Female Audience 1: I want you go to back and explain the difference between emotional support animal and service animals because you started with service animals, which were really clearly defined –dogs, horses, you got a lot of hobbies and all that—then emotional support animals are basically any animal because it's a reasonable accommodation for a person with a disability. Is that?
Carl: Ding, ding, ding! You got it. Yes, the service animal is very defined under the ADA as to what it is. Now I will give you a little caveat for that. Even though the ADA just describes it as the dog or the minihorse, there are cases where I've heard of monkeys who will be used. But that animal has to be specifically trained to do something for that disabled person, so the service monkey who I got a quadriplegic in the chair, that service monkey is trained to do all of these things. The seeing-eye dog is trained to do certain things. The minihorse, I guess you can train them as well to do certain things. God bless them.
The emotional support animal isn't trained at all and it can be any kind of animal. I caution us, when I use this in the training that I do for landlords as well where I say, "No snakes but yes to pit bulls." It gives you some idea that they're willing to draw the line somewhere but I don't know that even that statement is actually true because what if it was a snake that was a little tiny snake and I kept him just in the cage at all times, and that's all that he did. He was just kept in the cage, and I suffer from depression, but having that pet and that responsibility that prompts me to get up and start my day every day, and so I feed him. But I don't feed him rats, but I feed him, I don't know, food, whatever, I feed him little snake food thing and—
Rich: You don't have to get up every day to feed a snake. You just have to get up once a month.
Carl: [laughter] Right. It really comes down to what is reasonable in the whole situation, so it can be really any animal and without any training whatsoever.
Rich: And if you're having a real problem, you can get the emotional support snake to maybe eat somebody else's emotional support pet.
Audience: [laughter] [crosstalk 0:58:55]
Female Audience 1: Can I follow up on that? You said that you can ask for information about the disability in that case.
Rich: Can you just repeat the question please?
Carl: Yes. The question was, if you can ask for information about the disability? In these cases, I think you can only determine if they are disabled. When once you've made that determination that they're disabled, then you go on to proving the next leg of things where you can start asking for more detailed information.
Sometimes the tenant will voluntarily provide it to you, so maybe if you haven't asked, maybe they'll send you notes and doctor's letters, etc. But where you can ask for specific documentation is if it's difficult to see what the accommodation that they're requesting, how that alleviates the problem that you're having at the property.
Female Audience 2: I think did it say that the disability for the companion animals or the service makes sense, right? But the second part with the comfort pets, what do you call that?
Carl: Yes, the emotional support animal.
Female Audience 2: Emotional support animals, they have to have just a disability that has one or more things that they can't do?
Carl: Right. It limits their life function.
Female Audience 2: I forgot the wording, yes.
Carl: So that they can engage in some activity and all you're going to get is a letter from the doctor that says that. We've gotten barraged lately with, "I want two." I don't know if you guys are getting a lot of those, "I want two service dogs," or, "I want two dogs and a cat." Those were pushing back on, to be honest for the regular dog stuff, those are the hard fights to win, but for the two dogs or two dogs and a cat, we're pushing that in asking for documentation. What is it that the two dogs do that the one dog wouldn't do?
[1:01:01]
Rich: I need an emotional support farm. Carl, can you hang around for a couple of minutes afterwards and answer folks' individual questions?
Carl: Absolutely.
Rich: That would be terrific. If anybody wants to know if it's discriminatory to give a discount for somebody who has an emotional support monkey because that sounds really cool, feel free to ask Carl. I didn't interrupt this because this was so well put together.
Audience: [applause]
[End 1:01:44]
Click here to watch the latest MassLandlords Business Update.
This is part of our Statewide Rental Real Estate Networking and Training series.