Questions and Answers: Vaping and Roommates
| by Janet McMonagle. Posted in advice -
Q: A prospective tenant "vapes" instead of smokes. Do e-cigarettes leave odor or discolor walls?
Generally the odor is nothing like cigarette smoke, and they haven't (yet) been known to discolor walls. In confined areas, directly beneath windows, or anywhere oxygen is being used there might be problems for other residents.
Are vapor cigarettes bad for you? Probably. Although the FDA has not ruled on it, there is increasing evidence that they can produce carcinogens. Because of their heavy formaldehyde output at high voltages, the risk may be even greater than long-term smoking.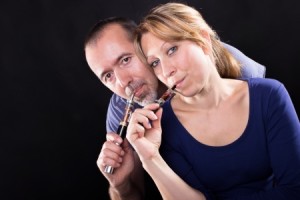 Evaluate the situation carefully. You want a "warm fuzzy" feeling that no other smoking will be carried out (tobacco, marijuana). If your building is no-smoking you might still decline the application.
You can also decline a prospective tenant who says they "only smoke outside." How far are they going to go outside when it's winter and 10 degrees below zero? The answer is they'll smoke "just one" inside your apartment that day. One is all it takes to require washing the ceiling, walls, and floor.
Smoking is an addiction that kills. Have some empathy for smokers, but hold the line if you don't allow smoking or vaping in your unit.
Q: My tenant's girlfriend moved in, furniture and all, but I didn't approve her. What do I do?
Maybe this will be fine. But beware: the approved tenants can leave and the new tenant can stay. Suddenly you have a "tenant at sufferance" with no written agreement. And they didn't pass your screening.
More commonly, it's an issue of increased expenses and decreased legal compliance. Imagine you approve a young family of four and then suddenly the grandparents move in too. They can exceed the legal occupancy of the dwelling and increase your water usage by 50%.
Offer to add roommates as long as there's room and they can pass your rental application and background check. Have a clearly explained visitor's policy that identifies when a friend becomes a resident. Discuss changing relationships in a business-like way and get applications taken care of before anyone moves in.