New Fire Code Going Into Effect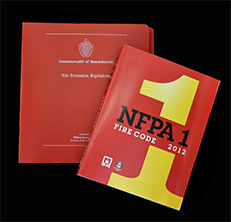 Okay, folks, we may be dropping the ball on this one a bit. Effective January 1 a new fire code is in effect throughout Massachusetts. We looked at the proposed code earlier this summer and we even had a landlord at the public hearing for it.
Unfortunately, the new code was a hundred pages long and there was no effort made to create a redline showing the changes. We tried to find any surprises, but just because we didn't doesn't mean they aren't in there. There may be changes that impact how landlords operate but we're not yet aware of them.
If you find out something about the new fire code, please tell us right away by email or phone call so that we can alert others.
In some municipalities, like Holyoke and Worcester, we've seen local officials mandating things that aren't in the state law or regulations. To some extent, it's in their power to do so. On the other hand, if we were larger we might have the resources to provide specific problem-solving guidance to these cities.
One change we are aware of was reported by Boston.com: gas station pumps may now use "hold open" clips. These are safe as long as you don't get back into and out of your car a lot while fueling. The action of rubbing against your upholstered seat will charge you up like the energizer bunny, creating a more-than-energizing spark when you touch the nozzle. Be careful.