Landlords Propose "Just Cause Move-out" Ordinance for City of Boston.
by Doug Quattrochi. Posted in News, policy, press releases -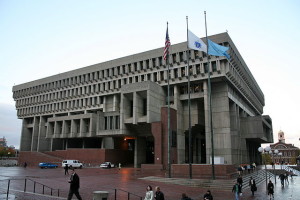 MassLandords announced today the filing of a petition with the City of Boston for a "Just Cause Move-out" ordinance. The ordinance is necessary to protect landlords' right to collect rent.
Many landlords feel there is an epidemic of short-term tenancies.
"Sometimes tenants leave because they get a better job, or need more space for their growing family. That's unacceptable!" said Larry Landlord, owner of a duplex.
The ordinance requires tenants seeking to move-out to have a just cause. The list of just causes includes a landlord's failure to maintain the premises, habitual and unending harassment, or unlawful discrimination. Absent from the list of just causes is a tenant's desire to improve their life.
"I can't be stuck with this landlord for the rest of my life," said Tina Tenant. "I have big plans for myself. I need to move!" Tenant currently rents from Landlord.
Any tenant seeking to leave without a just cause must go before a non-binding mediation board composed of landlords and landlord advocates.
"Move-out mediation is wonderful because it allows us to stabilize our rent collection," said Doug Quattrochi, Executive Director of MassLandlords.
Critics say it would decrease renting. Amanda Advocate of La Vida Loca asked, "Why would anyone sign a lease if they might have to live with that landlord forever after? It's even worse than marriage!"
A hearing is expected to be scheduled soon. Landlords have filed two versions of the petition. The second will not be published so that landlords can say it's whatever sounds best at the moment.
MassLandlords is a 501(c)6 trade association created to help landlords and advocate for fairer policy.