Ice Breaker Mats Really Work
We first learned about ice breaker mats years ago, and we know from a member's long-time experience that these mats really work and last for years.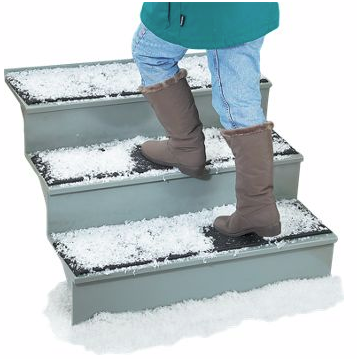 The principle is simple: if you step on a squishy surface coated in ice, the underlying surface will deform and crack the ice instead of slipping you up. These mats are two layers of rubber with a foam core. A hem around the edges allows you to staple-gun them onto wooden stairs. Or buy a large one and just lay it out flat in front of a door.
They say you can use weather-resistant adhesive. We don't know what that would be, and knowing how easily things can come unglued or become permanently glued, we think stapling them to wood stairs is the best use case. You can remove them with a simple pair of pliers to grab the staples.
Set them out around December 1 and pull them up around March 1. This will catch most of the ice.
The disadvantage is the way they tend to collect melt water underneath them. This will accelerate rotting out your wood steps if the steps aren't well sealed with paint or stain-sealer combo. Even if they are well sealed, your steps will rot if the mats are left on year-round. This is why we say to pull them up when warm weather returns.
It takes about three minutes to staple down one step with a staple gun, and maybe five minutes to pull it up.
The member who installed these mats had zero slips over five years where the mats were, but with the same tenants they did have a few slips where mats weren't installed. The mats would seem to make a difference.
These mats were out of stock at Amazon but in stock at Vermont Country Store at time of writing.