How to Advertise Apartments: A Guide to Landlord Advertising
| by Doug Quattrochi. Posted in advice -
Landlord Advertising Strategies
The strategies for how to advertise an apartment fall into three main categories:
Personal network
Local advertising
Digital advertising
The "personal network" approach, used exclusively by a small but persistent minority, involves sending out feelers to friends, family and coworkers. It works for some. But too often, the trust you give to your network leaves you lackadaisical with screening and may land you with a problem tenant. "Local advertising" refers to ads that don't exist anywhere but at a specific place, such as a newspaper, flyers at the local coffee shop or a lawn sign. It can be effective for landlords in high traffic areas but requires more time and footwork than the digital approach. The focus of this article is on "digital advertising" with an update regarding Zillow (including its fee structure, which took effect July 1, 2020). Digital, or online, advertising is where you get the greatest bang for your buck.
With digital advertising, you don't have to bother your personal network, and you don't have to put up signs or flyers. It can be coordinated right from your home or office.
Where to Advertise Apartments Online
You might be one of those lucky landlords with enough business to own and operate your own website. It can be very valuable for brand recognition to have tenants refer their friends to your site and to put your listing up there. But unless you're truly large in scale, you won't get enough traffic this way.
What About Social Media Marketing?
Social media marketing probably falls under the same category as having your own website. It takes a lot of time and attention to build up a following, and it won't make sense for landlords until they get into the hundreds of units.
If you have a Facebook page, you can pay for an ad. Facebook ads can appear in front of a thousand people for about $10–$15. But think about how well the ad will be received. Are people on Facebook because they're trying to find an apartment, or because they're having fun with friends? Better to put your ad in places where readers are ready to pick up the phone and call you. Facebook marketplace is a new exception that we will cover in the future.
Advertising on Rental Websites
For several years, the standard online apartment advertising sites were apartments.com and Craigslist. Several other sites have also joined the rental and real estate market, including Facebook.
However, since we last updated this article, Zillow Rental Manager has pushed Craigslist out of the picture for all up-market rentals. The general rules of marketing are the same, but the Zillow Group's practices have created new challenges for landlords and renters alike.
Apartments.com continues to be geared toward luxury apartments. Check out the pricing on apartments.com, though. A 30-day ad can cost as much as $80. And how much attention will your ad get? It's hard to say.
Zillow Fee Structure
For a long time, Zillow was free to use, and Zillow has definitely eaten into the online viewer share of apartments.com. However, in June 2020, Zillow announced it would begin charging a fee of $9.99 per week for rental ads. This policy applies to 12 states, including Massachusetts, and the District of Columbia.
Zillow doesn't give a detailed explanation for the fee policy, except to say that it "helps us create a more positive shopping experience, so our rental network continues to be the destination renters choose."
According to the fee policy, your first listing is free until it expires. Subsequent listings will be subject to the fee of $9.99 per week.
Advantages of Listing on Zillow
The Zillow Group started as a real estate database, focusing on price estimates and real estate brokerage. Since then, they have grown into the rental space. Their traffic and presence in the rental market is enormous, and listing an apartment there will generate lots of inquiries.
Zillow Rental Manager describes itself as "the simplest way to manage your rental." They offer to distribute a single listing on three platforms: Zillow.com, Hotpads, and Trulia. They will take renter applications for you. They will even accept rent payments for you.
Zillow Group offers push-button responses to ads on their platform. For example, a renter who likes your apartment can click "Schedule a showing" to send the message, and "Applicant is requesting a tour" with times and dates of their choosing provided for you.
A different button sends a message stating, "Applicant requests an application," which will guide you through the process of paying for Zillow's screening services.
A third button allows a renter to type a custom message under the subject "Applicant is requesting information," to which you can reply via email or get their phone number to text or call them.
This is all very simple! But simple is not always better, especially in Massachusetts.
Why Zillow Group Doesn't Understand Rentals
The real estate brokerage activity out of which Zillow grew is a fundamentally different activity from rental operations. Both have life-changing amounts of money at stake. But whereas rentals demand one-on-one communication, brokerage works through intermediaries.
In the purchase or sale of a house, the buyer and seller must communicate for a period of approximately one month, and then will probably never speak to one another again. In many cases, buyers and sellers never directly interact, communicating through their agents only. They don't know one another, and there's no harm to be caused by damaging a relationship, being unscrupulous, or picking a buyer/seller with no future prospects. The agents are incentivized to close the deal. They will paper over or mitigate relationship issues to give the buyer and seller what they want: a single transaction.
When renting an apartment, however, the prospective resident and landlord are agreeing to enter into a long-term, possibly decades-long, business relationship. Landlords and renters must be able to communicate on the same wavelength, respectfully and openly, day after day, month after month, year after year. They must know one another and decide to remain in business together. There is tremendous harm to be caused from high-pressure tactics, wrongdoing, or signing with a renter or a landlord on the financial brink, that is, someone who may not succeed long-term.
Understanding the Flaws of Zillow Rental Manager for Advertising Apartments
Push-button systems like those used by Zillow Rental Manager and Facebook have several disadvantages when it comes to advertising and meeting prospective renters.
First of all, telling renters what to say or how to introduce themselves makes all renters look the same, giving them little chance to differentiate themselves in a crowded marketplace. Renters are having a hard enough time getting good apartments. Where's the renter who connects with your kitchen? Or who loves your yard? Or who says your building is just down the road from their work, school, or gym? These renters are now gone, with any custom messages watered down by a pre-filled template.
Second, the push-button system creates an expectation that you can get an apartment online, without ever talking to anyone involved in the management of the building. There may be properties that operate this way, but this ought to be strongly discouraged. There is no combination of buttons that will explain the loss of a job, negotiate a payment plan, or avoid eviction. Renters need to be able to build a relationship with their manager, and this should start with the application and a phone call.
Third, Zillow's automation has resulted in a marketplace flooded with redundant ads. For up-market renters, Zillow's gloss makes Craigslist look scammy. And instead of solving Craigslist's long-standing problem of redundant listings from different agents, Zillow has multiplied it three times over. Renters see the same apartments listed over and over again, on sites that look different but aren't. Zillow.com, Trulia, and Hotpads are now all running off of Zillow's database. That's convenient for the landlord, who can list an apartment in three places instead of one, but frustrating for prospective tenants.
Fourth, Zillow's automation has resulted in a marketplace flooded with junk leads for landlords. The push-button system, while designed to save time, ends up requiring extra time and attention from landlords, who now have to respond to leads that are not sufficiently qualified.
In some cases, Craigslist ads, without push-button automation, provide a superior qualifying process. The ad is placed, interested respondents reply by email, phone or text, and landlords may then begin the qualifying process customized to each response. But up-market rentals will no longer get attention on Craigslist. Zillow Rental Manager must, and should, be used.
How to Manage Zillow Rental Manager Leads
MassLandlords staff and a volunteer tested Zillow's lead management for a September 1, 2019, move-in date. We used Zillow's applicant contact details to try to direct applicants into our offline leasing process. The offline process follows MassLandlords' recommendation: first, a phone screen with hard disqualifiers on things like move-in monies and smoking; second, a tour; third, an accessible paper application. We sent customized emails, text messages and phone calls over a period of four weeks from mid-July to mid-August.
Email fared the worst. We sent 26 stock pre-screening questionnaires to 26 applicants and asked them to reply via email. "Thank you for your interest in ADDRESS. Please fill out the questionnaire below and we'll set up a showing once I receive this back from you."
Four of the email recipients replied, reflecting a response rate of 15 percent. There are several possible reasons why the response rate was so low. Some of the button-pushers were likely "shotgunning," a practice of spamming every landlord to find one with light screening practices or easy tour policies. Our questionnaire indicated we were not for them. Some of the emails we sent likely landed in spam folders, as we were sending via Zillow's system. Still more would have been uncomfortable emailing information like their household income (we did not ask for any personally identifiable information) to a stranger. With all of these factors and others contributing, 85 percent of these leads ended up classified as junk.
Text messages fared middling. We sent 35 SMS messages to 35 applicants asking them to call for more information and a tour. "Hi NAME, I got your message on ZILLOW/HOTPADS/TRULIA. Please call me about the ADDRESS apartment at PHONE NUMBER. LANDLORD_NAME (landlord)." Fifteen of these renters ended up engaging over text, a response rate of 43 percent. Text messages generally do not go to spam, are not lost in a sea of email and are perceived as more trustworthy because it's generally harder to get a phone number than an email address.
Actual phone calls fared best. We made 21 calls. If we didn't get through, we left a voicemail with our name, number, the address of the apartment and the desire to get more information and schedule a tour. We had conversations with 11 applicants, a response rate of 52 percent.
Based on our testing experience, the optimal way to manage Zillow leads is by responding to applicants with phone calls. That's a fortunate result. Phone calls allow the best opportunity and most flexibility for initial applicant screening. That is, you can gather more credible information about a rental prospect through a phone call than you can via email or text.
Why Craigslist Advertising Might Still Make Sense for Small Landlords
Craigslist might still make sense for you. The site, unlike Zillow and apartments.com, is free, and it generates massive traffic. But there's also another reason. Craigslist is solidly in favor of "the little guy." In 2014, they released a set of changes that effectively chopped away the powers of large realty and screening firms to create glossy-looking brochure pages. That's right: You can't make fancy ads on Craigslist anymore.
The rules are enforced by the website automatically. If you try to break the rules, your fancy ad will be reworked in the Craigslist image. Here's a screenshot of someone's real ad. We highlighted sections that show where the advertiser's original intent was replaced with something to level the playing field:
As you can see, the "Additional Photos" are missing, and the link to "See All My Listings" was replaced with a link back to the Craigslist results page for apartments.
How to Write a Good Apartment Ad for Craigslist
Under current rules, you can't use fancy things like links to external websites or crazy HTML formatting. You can use some HTML formatting, however. In a nutshell, these are the things you must do:
Use the HTML formatting options that are allowed.
Provide lots of information in the text.
Take really beautiful pictures.
HTML Formatting for Craigslist Apartment Ads
We hear the rules vary by region, and we can't be sure they aren't going to vary again in the future. But you can view the rules directly at Craigslist.
Formatting Rules for Craigslist Posts
Let's give some ads a makeover!
Here's one ad for an apartment at a price and with features that should rent it immediately. Will it? Hard to say. But look at the awful mess of text they're asking you to read (click the image to zoom):

That block makes skimming difficult. If they don't like the pictures, they're likely to miss important selling points, like how close the place is.
In this case, the landlord could make a big difference with the "ul" and "li" tags.
HTML is easy: think of the tags as bookends and the words as books. You need bookends around the books.
The paragraph above would be entered into Craigslist like this:
THIS 2 BEDROOM 2nd FLOOR APARTMENT HAS BEEN FRESHLY
PAINTED AND IMMACULATELY CLEANED IN A 3 FAMILY HOUSE.
<ul>
<li>SPACIOUS LIVING ROOM.</li>
<li>NICE SIZE EAT IN KITCHEN.</li>
<li>NEW REFRIGERATOR.</li>
<li>OLD FASHIONED CLAW FOOT TUB.</li>
<li>HAS AN OUTDOOR PORCH.</li>
<li>ON STREET PARKING.</li>
<li>CENTRALLY LOCATED WITHIN WALKING DISTANCE TO THE TOWN POOL,
STORES-BIG Y-CVS-WALMARTS,
RESTAURANTS-TERESA'S-GHEPETTO'S-ASTRONAUT-PIZZA.</li>
<li>25 MINUTES TO
UMASS.</li>
<li>ON A BUS ROUTE.</li>
<li>WASHER/DRYER HOOK UP.</li>
<li>NO UTILS.
<li>1ST, LAST AND
SECURITY, NO SMOKING, NO PETS, REFERENCES.</li>
<li> AVAILABLE JUN
1ST.</li>
</ul>
PLEASE CALL TO
SEE
Note that the "li" bookends (which stand for "list item") bookend the text, and that there are special "ul" bookends (which stands for "unordered list") that bookend the whole bit.
That input would produce an ad like this (click to zoom in):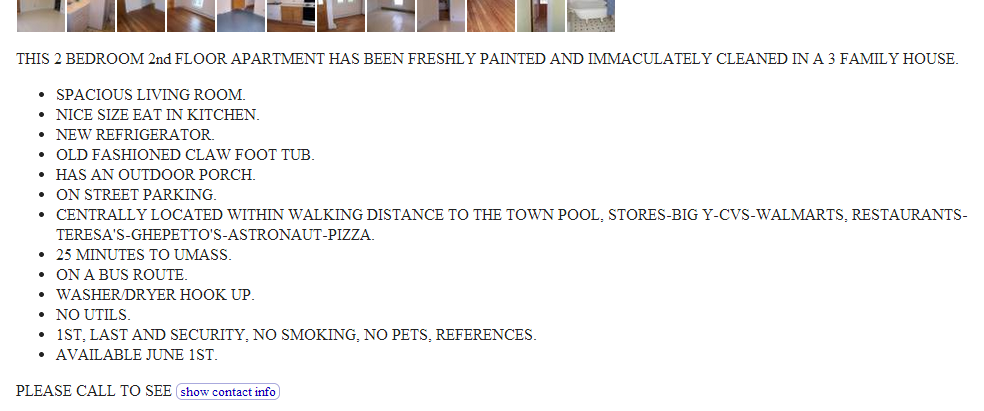 Not bad, right?  But wait, we can do better!
Did you see in the first example that the "li" tags were inside the "ul" tags?  You can nest "ul" inside "li" as well, like this:
<li>CENTRALLY LOCATED WITHIN WALKING DISTANCE TO  <ul>    <li> THE TOWN POOL,</li>    <li> STORES-BIG Y-CVS-WALMARTS,</li>    <li> RESTAURANTS      <ul>       <li>TERESA'S</li>       <li>GHEPETTO'S</li>       <li>ASTRONAUT-PIZZA.</li>      </ul>    </li>   </ul>  </li>
The indenting doesn't matter.  It just helps you to see when you need to add a final bookend.
The input above would produce output like this (click to zoom in):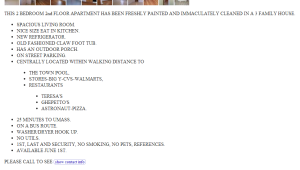 If that made sense to you, then you're ready to explore some other tags. Look at which tags are visible on Craigslist.
Learn all about HTML tags here.
That last link shows all the html tags there are. You can compare this full list against the list of tags Craigslist allows.
Avoid Discrimination in Craigslist Ads
Another advantage of advertising on Craigslist is that they put links that remind you: "discrimination is not allowed." And they provide a link to this page detailing all the protected classes according to the federal government and the Commonwealth of Massachusetts.
Learn about protected classes here.
This is a very good summary.
Does anyone discriminate? You betcha! Just look at the ad we found running in May, 2014: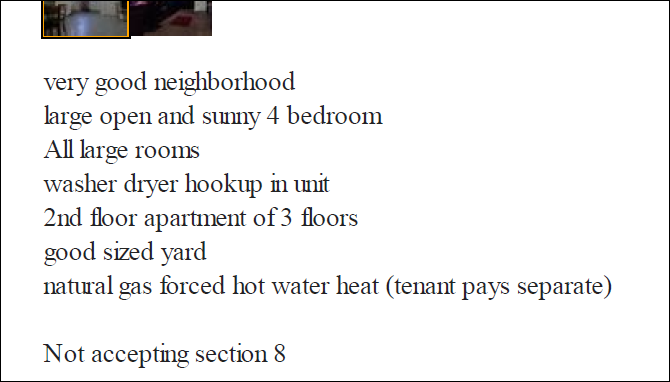 If you're reading this site, you know that discriminating against Section 8 is not allowed. You'll be in big trouble if someone sees this!
Discriminatory phrases to watch out for:
Be Careful with "No Section 8"
You cannot refuse to take someone on section 8. Don't mention it in the ad. If they receive housing choice vouchers (section 8), see if they're the most economically qualified before saying no.
Be Careful with "No Pets"
You're allowed to refuse pets, but you don't want someone with a seeing-eye dog to complain that you wouldn't hear them out. You must make accommodations for such "service animals," as well as "emotional support animals" with a doctor's note.
Try phrasing like, "No pets, SA/ESA may be permitted." If they know what SA/ESA is, you've made a friendly ad.
Be Careful with "Walking distance to the store"
Be careful now, if you talk about walking or running in your ad, you might be seen to be implying that you won't take handicapped people. It depends on context. Suffice to say, use "close to" instead of "walk to".
Be Careful with "Close to church/temple/mosque"
Even if you're close to all three, best not to mention it. If it matters to them, they will use Google Maps or similar to find out where they can access religious services.
What Should my Ad Include?
Regardless of which apartment advertising site you use, you need to create your ads to be as effective as possible. Ads are effective if they get people to contact you. They're very effective if they can screen out people who wouldn't be qualified. Here are some components of effective ads.
Photograph the Apartment
A picture's worth a thousand words, so make sure you have high resolution pictures. If you take the photos yourself, here are common mistakes to watch out for:
Holding the camera at an angle so that lines between wall corners are not vertical. You can also sight along cabinets, doors, or anything else that looks "up and down" to the naked eye.
Taking a picture in a dark room with a flash. Turn on the lights, raise the blinds, and take the picture at a time of day when there's bright indirect light.
Taking a picture with someone else's things in it. Most people have their own idea of interior decorating. Show a clean, empty apartment unless you're quite sure that the furnishings are modern and clean.
Watch those mini-blinds. They'll stick out like a sore thumb if they're crooked, unevenly slatted, or if that cord is hanging sloppily.
Describe How Easy it Will Be to Live There
Modern conveniences make people say, "Yes, I want this apartment!"
Garbage disposal
Dishwasher
Washer dryer hookups in unit, or washing machines close by, or great laundromat within walking distance
New, easy-open windows
Off-street parking, or where to park on-street
Modern electrical (no blown fuses)
Modern heat (save on utilities)
Digital thermostat
Large refrigerator
Gas/electric stove
Bathroom medicine cabinet
Describe How Good it Feels to Live There
Close to groceries, restaurants, shopping, transportation, outdoor spaces, highways
Breezy in summertime (especially for second and third floors)
Great natural light or great built-in lighting
Great carpet or beautiful hardwood floors
Quiet or friendly neighborsDescribe Who you Are
Yes, tenants care who their landlord is. Do you care? Are you attentive? Do you guarantee a 24-hour response?
Describe Your Pet Policy
If you're not taking dogs or cats, say so, but be careful to avoid discrimination complaints (see above).
Watch your Price
If you're asking top dollar, you're saying you want tenants who can't qualify for a good deal. If you price below market, you'll be overwhelmed with applicants. You may find one strategy suits your style better.
The best advice we've ever heard about price is, "If you don't rent it after two weeks, drop the price." And you repeat that in another two weeks, as often as it takes until it's rented.
Vacancies cost you more than you'll recoup from a higher price.
Do the math: A landlord waiting six weeks to rent a $1,000 apartment will pay $1,500 in opportunity cost. On the other hand, a landlord who accepts a $100 per month "loss" by renting it after two weeks for $900 will need almost a year to lose as much. Beyond a year, all bets are off anyway. You can raise the rent, or the tenant might leave.
Watch Price Breakpoints
If you're listing your apartment for $1,050/month, you'll be looking cheap to everyone who entered "$1,100" as their max price. But you'll be invisible to everyone who entered "$1,000/month" as their max. In this situation, you might be better off listing for $1,000 or even $990, just for more traffic.
Follow Good Ads with Good Screening
Ultimately, you have to decide which advertising sites and formats work best for your rentals. Zillow's heavy traffic and multiple platforms provide obvious benefits. Just be aware that its push-button options can flood your sales process with unqualified leads. If you use Zillow (which might be the best option for up-market rentals), you could create an effective template response/questionnaire in email and text form that will filter out junk leads, help qualify legitimate ones, and save some time directing applicants to the phone or office.
No matter what advertising site you use, the outreach work will need to be done. Push-buttons won't replace the legwork. Providing housing as a landlord or property manager is a people and relationship business, and qualifying rental candidates is simply not automatable. There are too many variables and determining factors in one prospective renter's life to be able to make rental decisions via an automated process.
Do Good Apartment Ads Really Matter?
Yes, they do! A properly priced apartment ad with skim-able text and nice photos can greatly increase your chances of getting a qualified call. In general, better ads lead to better tenants.
Do you have suggestions for how to advertise apartments? Tell us, this article will be updated.