Ford's Pest of the Month: Carpenter Ants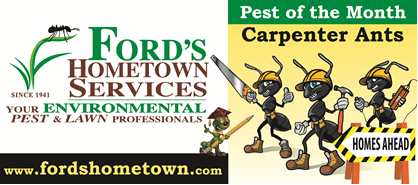 Carpenter Ants can be black or combination of red and black or red and brown. Workers vary in size and can range from ¼ to ½ inch and the queens range from ½ to 5/8ths. These ants are an important part of recycling and composting wood in their natural setting, but are destructive and unsettling when they invade our homes and businesses. Most carpenter ant queens start a nest in decayed or water-damaged wood that is softened by fungus. Normally, we find a major nest containing thousands of ants and smaller satellite colonies containing fewer ants. These satellite colonies can be found anywhere. The presence of winged ants (a swarming) indicates a mature colony close by.
Our Pest Management Professionals are experts in eradicating carpenter ants. They will ask questions to try to deduce where the ants may have set up the primary nest. Their questions may include: Have you had any water leaks or water problems in general? How many ants do you see and in what area do you see the most? Do you see ants every spring or do you see any with wings? Our professional will also look for conducive conditions such as mulch up against the foundation, excessive leaf litter, woodpiles and scrap wood, bushes and trees which touch the home and any earth-to-wood contact.  If ants are seen, the technician may put carpenter ant bait down. The ants will pick up this "food" and head back to the nest to feed the queen and the young. These clues will hopefully lead to where the problem is and the discovery of where the nesting sites are.
Are you beeing bugged? Contact us at FordsHometown.com!
Geoffrey Ford, Vice President
Ford's Hometown Services