5 Things You're Doing Wrong with Tenant Screening
| by Doug Quattrochi. Posted in tenant screening -
Tenant screening is one of the landlord's most valuable tools. A good screening practice ensures that the most qualified applicants get through, while saving you from wasting lots of time waiting for, giving tours to, and negotiating with unqualified applicants. Not all tenants are bad for all rentals. But regardless of what kind of tenant you want, here are five things you're probably doing wrong with tenant screening.  (Share with your staff.)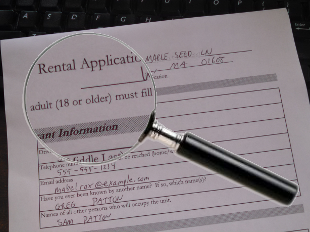 1. You're Waiting too Long to Say "No"
Your time is valuable. There are many more tenants who want your apartment than will qualify. You need to find out as quickly as possible whether someone is qualified and tell them "no" as soon as you find a reason. This helps the tenant, too. They don't want to waste time with a landlord who's leading them on.
For instance, we recommend a minimum qualification that all applicants combined have total gross income greater than three times the monthly rent.  If a tenant calls you, find out how much they make.  If they make only twice the monthly rent, tell them "no" right then and there. No tour. No application.
If they smoke and you don't allow smoking, say "no."
If they're being evicted and you don't take tenants with an eviction history, say "no."
If they have more people or more cars than you can legally or safely accommodate, say "no."
Does this mean you need to be rude? Of course not. You can always say, "Oh, I'm sorry, but I just can't rent this apartment to a smoker. The whole property is non-smoking so you'd have to go out to the sidewalk even in winter, and you just won't be comfortable."
2. You're Saying Discriminatory Things
A very common question is, "Do you take Section 8?" Part of the reason this is so common is that Massachusetts employs "testers," who from time to time make inquiries. It is against Massachusetts law to discriminate against an applicant because they receive public assistance. The answer to "Do you take Section 8?" is always, "Yes, I do."
Realistically you might never have taken Section 8 before. It's safe to admit that. Say, "Well, I haven't used that process before but I'm sure we can figure it out." Usually the tenant is only too happy to connect you with people who can answer your questions.
There are a host of other protected categories.
Q: "Do you rent to gay people?"  A: "Yes, I do."  You cannot discriminate on the basis of sexual orientation.
Q: "Do you rent to transgender people?" A: "Yes, I do."  You cannot discriminate on the basis of gender identity.
Q: "Do you rent to single moms?" A: "Yes, I do."  You cannot discriminate on the basis of marital status.
Q: "Do you rent to children under six?" A: "Yes, I do."  Even if you have lead paint in the apartment, which constitutes a hazard to children, you cannot refuse to rent to them because of the lead paint.  You must use remediation procedures to get a letter of interim control or full deleading compliance.  (There a few exceptions to the children rule; for instance MGL 151B Section 4, paragraph 11-1.)
Q: "I just got back from service in Iraq.  Do you rent to veterans?" A: "Yes, I do." You cannot discriminate against veterans.
Q: "I have a service dog.  Is that okay?" A: "Yes, I just need a doctor's note."  You cannot discriminate against emotional or physical handicaps requiring animal support.
Q: "I'm from Kreplakistan.  Do you rent to Kreplakistanis?"  A: "Yes, I do."  You cannot discriminate on the basis of national origin.
Q: "I'm deaf.  Do you rent to handicapped people?" A: "Yes, I do."  You must make reasonable accommodations, especially if the tenant will pay.
3. You're Not Keeping a Paper Trail
You might say "no" to someone only to get in trouble for discriminating.  You tried to save yourself time but now you have a lawsuit.  For instance, you could tell a wounded warfighter that you won't rent to her because she smokes, and the apartment is non-smoking. If she feels that the true reason was that you didn't support her involvement in the war, she could threaten you with a suit for discrimination against veterans.
Your paper trail should start with a clear apartment ad stating the restrictions (e.g., no smoking). You should take notes of every phone call. If you wish to record a call, you may say, before you begin recording, "This call may be recorded or monitored for legal compliance." CNET recently reviewed some recording apps.
Then if you do get threatened with a suit, you can say, "Actually, my paper trail clearly shows the reason for declining this applicant was XYZ.  That reason is allowed under the law."
4. You're Afraid to say "Yes"
Tenant screening sometimes turns into picking a new friend.  Don't let it be like that.  You don't have to understand a person's life choices, agree with their choice of hair color, or have them over for dinner.  This is a business relationship, and sometimes really colorful and unusual people will walk into your business with good qualifications.
Your decision should be on the basis of economic qualifications.  Also, you should have a reasonable expectation that they will cooperate with you for maintenance and monthly rent payments.  Your rental agreement should outline the behaviors you expect and the consequences for non-compliance.  Your "gut feel" should be positive. You absolutely should not wait to find someone you would invite over for dinner.
If all these factors are in alignment, look past whatever you find unusual and rent to them. Economically qualified people with cooperative mindsets usually work out. We recommend a rigorous numerical assessment of each candidate, like our applicant scoring sheet.
5. You're Not Asking the Right Questions
The most important thing is to get the tenant to admit the truth about their situation. No one wants to live a lie, and many people will be only too happy to tell you what's going on in the hopes that you will understand. Maybe you will.
Instead of asking, "Do you have any pets," which creates defensiveness, get in the habit of asking, "How many pets do you have?" The former question implies that "zero" might be the desired answer. The latter question implies that one, two, or seventeen might be allowable. Ask the same question regardless of whether you allow pets.
If a tenant goes on a rant about their current landlord, don't say, "Golly, I guess you're glad to get away from that bad landlord.  Instead ask, "Are you being evicted?" Come right out with it. Your business might not weight this factor very heavily. Or it might. Either way, both you and the tenant want to find a place where the arrangement is welcome.
You should also ask, "What kind of recommendation could you get from a previous landlord?" That invites the truth, whereas "Did your previous landlord like you?" invites a "yes." Ask, "Why are you looking to move?" and "How many people will be living with you?" as similar open-ended questions.
So those are the five most common mistakes we see with tenant screening. Do you think you'll change anything in your process?  Let us know in the comments below!
Related Articles: