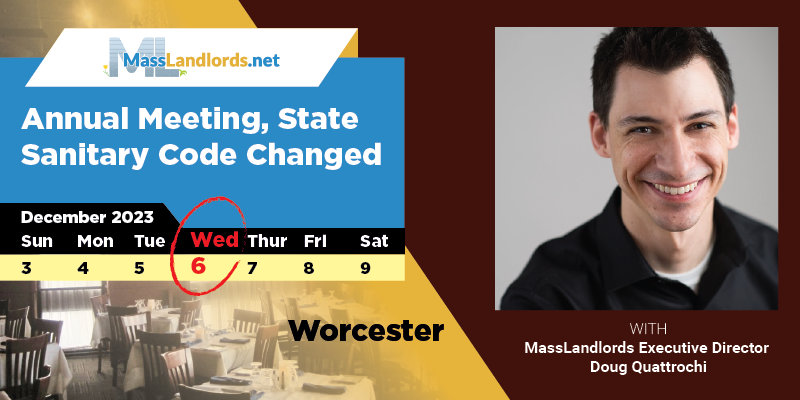 We're back in Worcester!!! Thank you for your patience as we worked to find the best possible venue.
Our annual business meeting is being conducted electronically and at this one in-person event. Come vote for our annual director and on some needed bylaws changes!
Also, the state sanitary code has changed! It defines what every apartment in Massachusetts must do and be. Unlike the building code, which is usually inspected only at time of permit completion,
the state sanitary code applies in all rentals all the time, and can be inspected at any time. Did you know it changed in half a dozen major ways April 1?
Few units are fully compliant as-is. We'll review the new code in easy-to-understand detail and help you get a sense of where you may need to make repairs or improvements.
The state sanitary code is your biggest liability in a nonpayment situation, where a renter is being taken to court. They will be
able to counterclaim based on the condition of the apartment. If you anticipate having any kind of conflict resolution process
with a renter, it's critical that your apartment is fully up to code and your position is one of blamelessness.
"This is my second time participating in the sanitary code session, and I still learned something new that we need to address in our building." -Beatrice
"Presentation was VERY informative and thorough." -Carol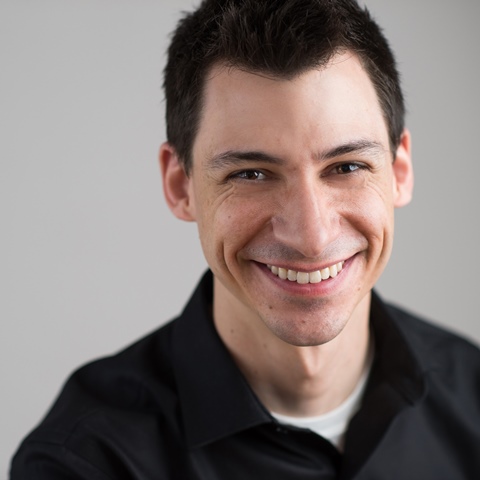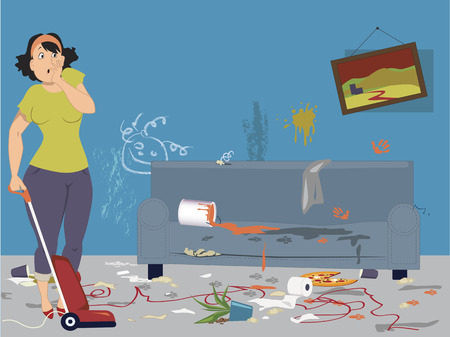 Part of this presentation will be given by Doug Quattrochi, Executive Director, MassLandlords, Inc. Doug was a founding member of MassLandlords in 2013. He became the association's first Executive Director under new bylaws in 2014. Since then, he has scaled the organization from a core of 160 members in Worcester to approximately 2,500 dues paying businesses from Pittsfield to the Cape, and from an all-volunteer team to approximately 20 full and part-time staff plus 50 volunteers. Doug has been instrumental in advancing democratic governance mechanisms, including score voting for policy priorities and a staggered and democratically elected Board of Directors. Doug also oversees the RentHelper spin-off, which is expanding access to electronic banking for those of us who are unbanked or underbanked. Prior to MassLandlords, Doug held leadership roles in various Massachusetts startups, two of which are still operating. Doug holds a Master of Science in Aerospace Engineering from the Massachusetts Institute of Technology.
"Doug's presentation was excellent. He was very clear and provided detailed explanations." -Larry
"Doug always holds very informative classes full of substance and Very organized!" -Thomas
"Your answers to member's questions were most helpful." -Liz
Public Ticket
(early bird)
Member Ticket
(early bird)
Public Ticket
Member Ticket
Worcester Dinner Meeting - Wed December 6
Annual Meeting, State Sanitary Code Changed
$60
$40
Member? Log in.
$75
$50
Member? Log in.
"No Sales Pitch" Guarantee
MassLandlords offers attendees of directly managed events a "No Sales Pitch" guarantee. If a guest speaker offers services, their presentation will not discuss pricing, promotions, or reasons why you should hire them.
We do not permit speakers to pay for or sponsor events. Guest speakers are chosen for their expertise and willingness to present helpful educational content. Your purchase of an event ticket sustains our nonprofit model.
Wednesday, December 6th
Dinner Meeting Agenda
5:30 pm Check-in and networking. Mix and mingle but don't be shy! Introduce yourself to someone and you might make a valuable local connection.

Networking draws from Worcester, Shrewsbury, Millbury, Auburn, Leicester, Paxton, Holden, West Boylston, Boylston, Grafton, Upton, Northbridge, Sutton, Oxford, Charlton, Spencer, Oakham, Rutland, Princeton, Clinton, and Sterling.

6:15 pm Dinner
6:45 pm Introductions and short business updates
6:55 pm Presentation
7:55 pm Presentation ends
8:35 pm Doors close
Location
Parking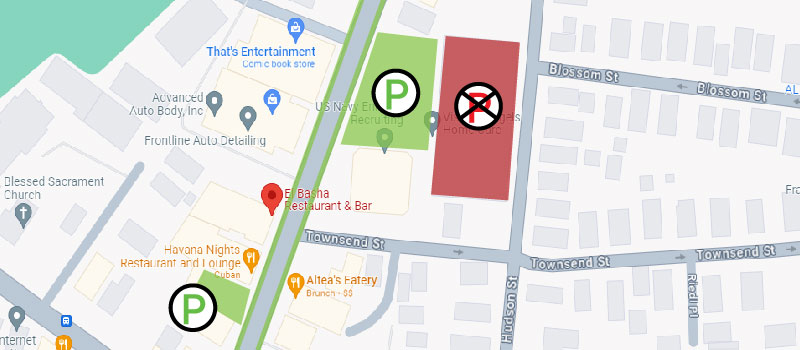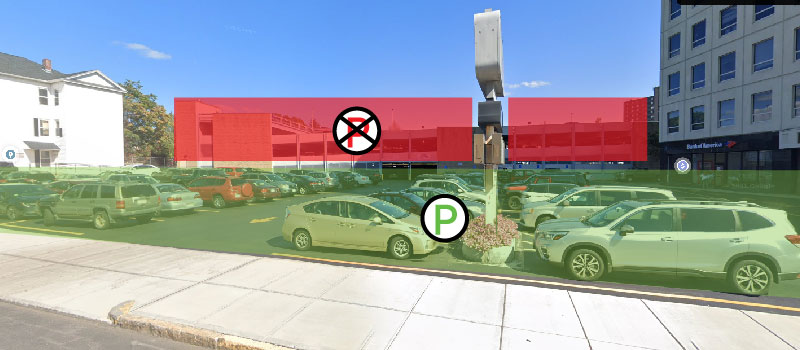 There is ample parking in the El Basha lot just south of the restaurant, in the Bank of America lot across the street, street parking, and the TD bank lot down Park Ave, all of which are open weeknights to our event.
Careful: Don't park in the garage. It locks during the event.
Food
The Sakhat family has taken their mother's traditional recipes and inspiration to offer the finest Mediterranean & Lebanese cuisine in their El Basha restaurants. We will enjoy:
Cash bar
Three course buffet dinner:

Hummus and pita.
Greek salad.
Their extremely popular chicken kabob.
Rice and grilled vegetables.
Baklava! Layers of phyllo dough with nuts and honey.
Coffee and tea.
*Dietary restrictions: Purchase a ticket and set your preferences at My Account one week prior to the event or earlier. Once set, preferences remain set for future events.
Masks welcome! Eating and drinking is not required. Please note: as we are unable to monitor the buffet, we are unable to offer a reduced ticket price for attendees who will not be eating.
Pricing
Open to the public. Membership is not required!
Door:
Early-bird, reserve seven days prior by 12pm:
This event will not be recorded.
Slides and handouts if any will be uploaded to
State Sanitary Code
.
v1