The State Sanitary Code
Also known as 105 CMR 410, the state sanitary code sets the standards by which shelter in the Commonwealth is to be judged.  Its official title is "Minimum Standards of Fitness for Human Habitation."
All apartments should comply with the state sanitary code. You will probably only encounter the code under two circumstances:
You are a diligent landlord seeking to comply with the laws of your own accord.
You had a tenant call the board of health on you.
The code is about 30 pages and has, the last time we counted, 270 unique inspection points. Some of these inspection points, like outlets, have multiple inspection locations within an apartment. There are literally hundreds of places in each unit where you could be fined for non-compliance.
Basic Points of the State Sanitary Code
Every dwelling unit must have what we think of as a kitchen, a bathroom, hot and cold drinking water, heat, windows, electrical outlets, lights, ventilation, and waste plumbing.
Asbestos, if it exists, can't be a hazard.  Lead, if it exists, can't be a hazard if children under six live in the unit.
Utilities must be somehow metered or included in the rent.
You must provide adequate ceiling height, square footage, and freedom from below-grade dampness.
You must have egress, handrails, smoke detectors, and carbon monoxide detectors.
You must keep the structure in repair and seal against weather to a reasonable extent.
You must keep the premises free of vermin, provide non-absorbent surfaces in the kitchen and bathroom, provide window screens, and screens for certain doors.
Garbage and rubbish must have temporary storage on the premises and be removed somehow.
The board of health may enter the premises following a request for an inspection from anyone.

Square Footage Example
Realtors talk about square footage including bathrooms, porches, hallways, and sometimes basements.  Not so for the state sanitary code.  Bathrooms, porches, hallways, and all closets and storage areas are not counted for the purpose of calculating occupancy.
This example comes from Springfield.  Suppose we have a two bedroom townhouse (click to zoom):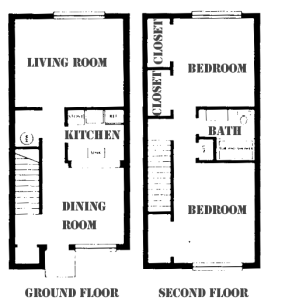 Square Footage Example
How the state sanitary code calculates footage.
| Room | Measured Size | Size in Feet | Square Feet (sf) |
| --- | --- | --- | --- |
| Total | | | 524 |
| Bedroom | 10'2" x 11'2" | 10.17 x 11.17 | 114 |
| Bedroom | 9'10.5" x 12'3" | 9.88 x 12.25 | 121 |
| Kitchen | 6'5" x 7'6" | 6.42 x 7.50 | 48 |
| Living room | 13'3" x 11'2" | 13.25 x 11.17 | 148 |
| Dining room | 9'6" x 9'9" | 9.50 x 9.75 | 93 |
Since this townhouse has 524 sq. ft., the legal occupancy is only four:
| Sq. Ft. | Legal Occupants |
| --- | --- |
| 150 | 1 |
| 250 | 2 |
| 350 | 3 |
| 450 | 4 |
| 550 | 5 |
The parts of the code used to calculate this example are found in Section 410.400 and subsequent. The definitions for a habitable room are in section 410.020.
Learn More
You should know the code forward and backward, because the above summary doesn't explain the details.  Some rules apply to four unit buildings and up, some rules are much more specific than we've indicated here.
Read the state sanitary code (105 CMR 410).
Past Presentations
To view all of this presentation, you must be logged-in and a member in good standing.

Log in or join today for $98 and gain access all presentations and videos

MassLandlords is a nonprofit dedicated to helping owners rent their property. Presenters are not necessarily vetted by MassLandlords. Although we try to offer the best possible advice, we recommend you consult an attorney or tax accountant before you alter your business processes.

Slides are available only for members in good standing who are logged in.

Click here to watch the latest MassLandlords Business Update.

This is part of our Statewide Rental Real Estate Networking and Training series.