The State Sanitary Code
New May 2023
Give the Notice of Occupants Rights and Responsibilities.
Learn More
Also known as 05 CMR 410, the state sanitary code sets the standards by which shelter in the Commonwealth is to be judged.  Its official title is "Minimum Standards of Fitness for Human Habitation."
All apartments should comply with the state sanitary code. You will probably only encounter the code under two circumstances:
You are a diligent landlord seeking to comply with the laws of your own accord.
You had a tenant call the board of health on you.
The code is about 30 pages and has, the last time we counted, 270 unique inspection points. Some of these inspection points, like outlets, have multiple inspection locations within an apartment. There are literally hundreds of places in each unit where you could be fined for non-compliance.
Jump to
Basic Points of the State Sanitary Code
Every dwelling unit must have what we think of as a kitchen, a bathroom, hot and cold drinking water, heat, windows, electrical outlets, lights, ventilation, and waste plumbing.
If asbestos is in a friable condition, then it is hazardous and must be remediated.
If lead is in a hazardous, unremediated state, then children under the age of six cannot live there, but landlords cannot discriminate against families with such children: landlords must delead.
Utilities must be somehow metered or included in the rent.
You must provide adequate ceiling height, square footage, and freedom from below-grade dampness.
You must have egress, handrails, smoke detectors, and carbon monoxide detectors.
You must keep the structure in repair and seal against weather to a reasonable extent.
You must keep the premises free of vermin, provide non-absorbent surfaces in the kitchen and bathroom, provide window screens, and screens for certain doors.
Garbage and rubbish must have temporary storage on the premises and be removed somehow.
The board of health may enter the premises following a request for an inspection from anyone.

Square Footage First Requirement Example
Realtors talk about square footage including bathrooms, porches, hallways, and sometimes basements.  Not so for the state sanitary code.  Bathrooms, porches, hallways, and all closets and storage areas are not counted for the purpose of calculating occupancy.
This example comes from Springfield.  Suppose we have a two bedroom townhouse (click to zoom):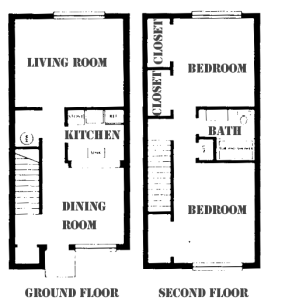 Square Footage Example
How the state sanitary code calculates footage.
| Room | Measured Size | Size in Feet | Square Feet (sf) |
| --- | --- | --- | --- |
| Bedroom | 10'2" x 11'2" | 10.17 x 11.17 | 114 |
| Bedroom | 9'10.5" x 12'3" | 9.88 x 12.25 | 121 |
| Kitchen | 6'5" x 7'6" | 6.42 x 7.50 | 48 |
| Living room | 13'3" x 11'2" | 13.25 x 11.17 | 148 |
| Dining room | 9'6" x 9'9" | 9.50 x 9.75 | 93 |
| Total | | | 524 |
Since this townhouse has 524 sq. ft., the legal occupancy is only four:
| Sq. Ft. | Legal Occupants |
| --- | --- |
| 150 | 1 |
| 250 | 2 |
| 350 | 3 |
| 450 | 4 |
| 550 | 5 |
The parts of the code used to calculate this example are found in Section 410.400 and subsequent. The definitions for a habitable room are in section 410.020.
Square Footage Second Requirement Example
There is a second requirement on square footage: minimum sleeping area size. There must be at least 70 square feet of sleeping area for the first occupant, 100 combined for two occupants, and 50 additional for each additional occupant.
Changes April 2023
Learn More
You should know the code forward and backward, because the above summary doesn't explain the details.  Some rules apply to four unit buildings and up, some rules are much more specific than we've indicated here.
Read the state sanitary code (105 CMR 410).
The State Sanitary Code on Building Signage
By Kimberly Rau, MassLandlords Writer
Every landlord needs to be familiar with the Massachusetts state sanitary code, formally known as 105 CMR 410. Simply put, if your rental property isn't in compliance, it's not going to be considered habitable, and you can't rent a unit that no one can (legally) live in. The code is very specific about making sure tenants know what's going on in their rental, whether that's finding the building, finding their way out in an emergency, or finding you (or your property manager). Read on to make sure your place is in compliance.
Building Signage
If you are a landlord who does not live in the same location as your rental unit, and you do not have live-in management onsite, you are required to let your tenants know who you are and how to get in contact with you. The state sanitary code is very specific about how you must do this.
The sign you post must be no less than 20 square inches in size and has to include your name, address, and telephone number. The sign must be posted either by the mailboxes in your rental building or somewhere inside that is visible to the residents. The state sanitary code further states the sign must be made of a "durable material" and maintained, either by you or someone you designate to maintain it.
If the building is owned by a partnership or trust, your sign must include the contact information for the managing trustee or partner. If it is a corporation that owns the dwelling, the name, address and telephone number of the corporation's president must be on the sign. Furthermore, if you appoint a property manager who also does not live in the building, the sign must also include that person's name, address, and telephone number.
Numbers
In order to allow emergency services to easily identify your building, you must put a number on the front of it that corresponds to your address. The sanitary code does not tell you what material your number must be made from, or specify a certain height, though it does say that it must be made of a "nature and size and be situated on the building so that… it is visible from the nearest street providing vehicular access."
Emergency Lighting and Signage
If your rental property has 10 or more units, you also must provide emergency lighting and signage that is not part of your regular lighting system. These lighted signs must indicate both a primary and alternative exit to the building, and must include a diagram or signal so non-English speakers can still easily understand it. (Think of the common pictogram with a fire, a person walking, and an open door.)
Neglecting to follow these directives puts you in violation of the Massachusetts sanitary code, which can have negative consequences for landlords. It can be a minor inconvenience to the person looking to contact their landlord or property manager, or the delivery driver looking to find your building. But it can also pose a serious safety issue if your tenants cannot leave the building quickly in an emergency or be located by fire, ambulance, or police. Consult your attorney if you have concerns about being in compliance with this regulation.
The entire Massachusetts state sanitary code can be found here.
See Also
Past Presentations
To view all of this presentation, you must be logged-in and a member in good standing.

Log in or join today and gain access all presentations and videos

MassLandlords is a nonprofit dedicated to helping owners rent their property. Presenters are not necessarily vetted by MassLandlords. Although we try to offer the best possible advice, we recommend you consult an attorney or tax accountant before you alter your business processes.

Click here to watch the latest MassLandlords Business Update.

This is part of our Statewide Rental Real Estate Networking and Training series.