Questions and Answers for February 2016
| by Nomer Caceres. Posted in News -
Questions and Answers adapted from our Message Boards.
Q: Heating Emergency! How do I find a good heating person?!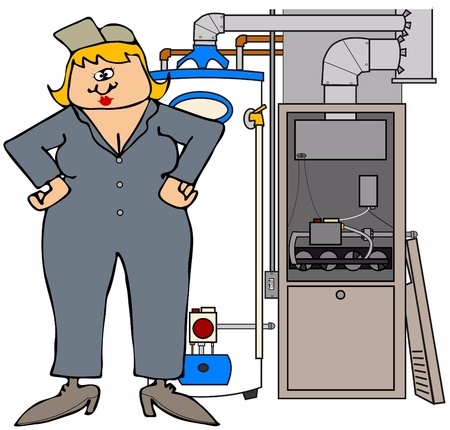 Our attempt to find a non-sexist HVAC cartoon turned up only this furnace repair woman in heels. So much for equal opportunity cartoonists.
The first things to try are always our Service Directory and your local Message Board.
Many members have also had good luck with HomeAdvisor or AngiesList to screen and find general help quickly.
Another option is to look at the heating system. There may be a label with the company that put it in, or you can google the manufacturer and they typically provide a list of companies certified to service the machine.
If you are in a condo association with a service contract, you should be able to get any work done quickly. You should probably check with the other condo members first.
The best advice with any plumbing, heating, or electrical work is to be at home and
watch what the workers are doing and saying. Even if you have no background or understanding in those areas, you can ask them to show you what they are talking about, what troubleshooting they did and why they arrived at their conclusions. If you talk about more than what the problem is, you will learn whether these particular providers are any good.
You can always step back and do your own internet searches to validate what
they are telling you.
Q: I have a tenant-at-will who is behind on rent and I want them to leave. I'm more interested in them leaving quickly than me getting paid back. Should I give them a 14-day notice for non-payment of rent or just a 30-day notice ending the tenancy?
There's a trade-off here. If you serve a 14-day, the tenant has the right to cure by paying rent in full. They might end up staying. If you serve a 30 day you wait longer and in theory there's nothing they can do.
But in practice any eviction can be waylaid by tenant advocates, extenuating circumstances, or procedural hurdles. If a tenant takes full advantage of their legal remedy, short of asking for a trial by jury, you should expect eviction to take up to 90 days. The wait for a Housing Court jury trial in Boston is currently about six months.
The courts treat eviction for non-payment quite differently. In Housing Court, the judges are interested in exploring the in's and out's of the housing law because that's all they do, day-in and day-out. In District Court, the judges have to deal with grand theft auto and assault. Anyone not paying rent is reneging on a contract and far less important than the case scheduled before or after. "Judgment entered for the plaintiff. Next!" You may therefore find that the most expeditious way to get rid of the tenant is to file non-payment in District Court.
In Massachusetts, all tenants have the right to transfer their cases from District to Housing Court. There is no silver bullet.
The third option is of course to suavely persuade them to leave. You can try honeyed words or Benjamins.
Whatever you do, don't be the bully. There are many ex-landlords who lost everything for making discriminatory comments, shutting off the power, changing the locks, or (this really happened) tearing down the staircase that leads to the apartment. We understand why you might lose your mind. Just don't do it.