Message Board Revamp Planned for This Quarter
by Nomer Caceres. Posted in Did you know?, News -
We hope to roll out a new message board service by the end of the second quarter of this year. The MassLandlords message boards allow members in good standing to message other local landlords and service providers. This ought to be a great way to get suggestions, advice, references, and political help. Some aspects of the message boards have been working very well. Others have not.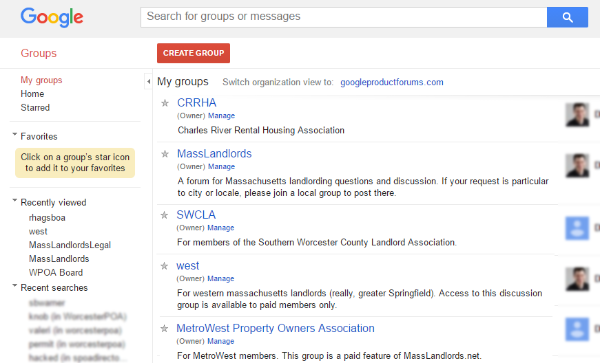 Benefits of the Current Service
We are currently using Google Groups. This service works very well for members with a gmail address. Gmail members can get digests and log into view past posts at groups.google.com. The service allows us to enroll all members automatically. It enables quick communication via email without logging in to a webpage. The service also allows members to unsubscribe themselves.
Problems with Google Groups
The major issue is there is no connection between the MassLandlords membership database and the Google Groups. We have staffed a part-time position just to keep the two in sync. Even so, it takes 24 to 48 hours to be added after joining. And you have to request membership in any boards you weren't automatically assigned. You also have to tell us your gmail if you registered with a business address on MassLandlords.net.
Another issue is the way email digests are replied-to. This changes the subject of the email conversation, breaks the "thread" of conversation, and creates confusion.
The final issue is the way old emails are contained in replies, creating long blocks of text to sift through. This decreases engagement.
The Search for a Replacement
We would like a replacement that lets us automatically enroll new members, lets members reply via email, keeps databases in sync automatically with no labor, and most importantly, helps every member get their questions answered.
We have evaluated two paid services in depth. One produces a seamless experience, but does not automatically enroll new members and does not allow posting the first question by email. It does allow replies by email.
The second service is extremely expensive and yet still requires an admin to maintain two separate databases.
We are going to reevaluate these options and look for others.
Tell us What you think
Do you use a message board in another organization? Does it allow posting by email? Send us your suggestions by emailing Doug, dquattrochi@masslandlords.net, subject: Message Boards.