Join Your Local Board of Advisors or Directors for a New Dropped Ceiling
| by Nomer Caceres. Posted in governance, groups, News -
Special Essay by Executive Director Doug Quattrochi
I will never forget the time my third floor dropped ceiling collapsed. The tenant woke up, opened her bedroom door, and looked out at disaster. She texted me to say she wasn't dealing with it and had left for work. I panicked. This was my only building, I lived downstairs, and I didn't know anything about dropped ceilings. I wouldn't be able to fix it quickly by myself, and I was all alone.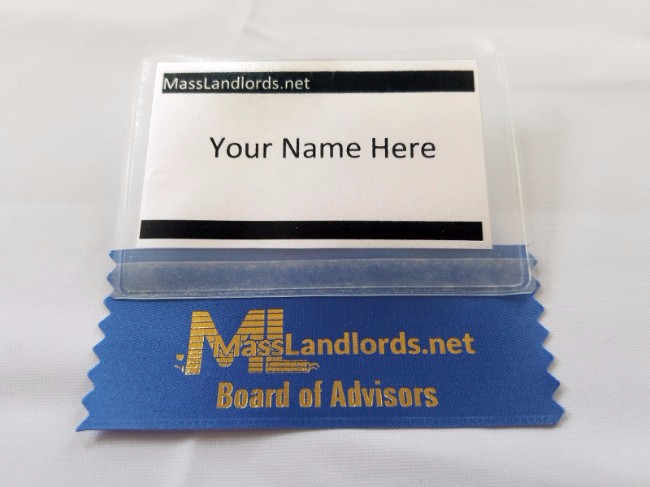 I called Sandra Katz, a landlord I knew well because we both volunteered for the Worcester Property Owners Association (WPOA). She was president at the time. Sandra connected me with what were essentially her "emergency handy people." They stopped what they were doing for Sandra, came over to my place with a truck full of materials, and had the new ceiling up before the tenant came home. I paid Sandra's team a fraction of what they were worth to me that day. I went out to celebrate that night.  (And a few years after, I was able to return the favor.)
This connection happened only because Sandra and I were good friends from long hours volunteering to run the WPOA. My connections through the WPOA have saved my bacon more times than I can remember. I've headed off a frivolous lawsuit, avoided an electrical fire, and who knows what else.
There are 23 locations around Massachusetts where landlords meet. Traditionally, operations are carried out by a "Board of Directors," who write, email and set up tables at events. These activities create cohesion. Each member of a Board of Directors knows the others very well.
But the MassLandlords strategy is to run operations professionally, with a high hourly commitment and specialized skills. It is not possible to run the new organization with volunteers. As we have started to directly manage events in Greater Springfield, Worcester, Greater Waltham, and Cambridge, we have needed less and less of our volunteers. How can we create the same chance for cohesion? How can we make sure every MassLandlords member has their own Sandra Katz on speed dial?
The answer may be in what we are rolling out this month: the "Board of Advisors." The "Board of Advisors" sounds like the "Board of Directors" on purpose. We want to replicate the tight-knit Boards of Directors that still run many of the landlord groups out there.
But the MassLandlords Board of Advisors will be different from the Board of Directors at other organizations. MassLandlords Advisors have two important but non-operational goals: every member feels connected to MassLandlords, and MassLandlords gets input from every member. By flowing information up and down, back and forth, the Board of Advisors will become an essential link between staff and members.
Being an Advisor will be a fun way to get more from monthly dinner meetings. Advisors will mix and mingle. They will get a special nametag, spread themselves out at different tables, and get to know each member. Advisors will also be encouraged to meet with one another outside of monthly events. We will pay for one outside dinner a month (subject to our dinner policy, which generally gives enough for a proper dinner but doesn't cover alcohol).
During the meal, advisors can discuss new services MassLandlords should offer, new problems being experienced by local landlords, and new things happening at the state level. You can also discuss your own business and how to handle whatever situation you have going on at the moment.
Our vision is that advisors will serve short, staggered terms and rotate out. We want lots of people to have the chance to work with and get to know other members in small group settings. We also want to prevent cliques from forming. Everyone is welcome at MassLandlords. Once you've been on the board of advisors, you can return to being a member at events, or you can ask to be the local manager, or you can run for the state-wide Board of Directors, which oversees me and sets strategy. Whatever role you take afterwards, we will all be stronger for it.
Here are the email addresses for our local managers, who can help you join your local Board of Advisors. Springfield: Cindy Nothe, cnothe@comcast.net. Worcester: Rich Trifone, rich@richtrifone.com. Charles River: Gar Brannigan, gar.brannigan@gmail.com. Cambridge: TBD, email me at dquattrochi@masslandlords.net.
If your local events are not in one of these locations, there is another group that serves your territory with a Board of Directors. Here are email addresses for the presidents of MassLandlords partner associations: MetroWest: Sherri Way, slway@comcast.net. Southern Worcester County: David Foote, davidfoote1@charter.net. SPOA: Suzanne Bloore, swbloore@aol.com.  If you are outside all of these groups, you should search our "Chapters" page to see what other groups are out there. Probably they would all welcome your involvement.
Raise your hand to volunteer. The return on investment will be surprising and unexpected. Who knows? Maybe someday a new friend will help you put your dropped ceiling back where it belongs.