Early Warning System
MassLandlords is a nonprofit dedicated to helping owners rent their property. Presenters are not necessarily vetted by MassLandlords. Although we try to offer the best possible advice, we recommend you consult an attorney or tax accountant before you alter your business processes.
The Early Warning System was operational as of:
The early warning system is a member benefit. Sign up for an email notification within 24 hours of a public hearing being posted.
Early Warning System Preferences:
We will only email active members in good standing.
MassLandlords Early Warning System
In a Nutshell
Green is new text, red is deleted text.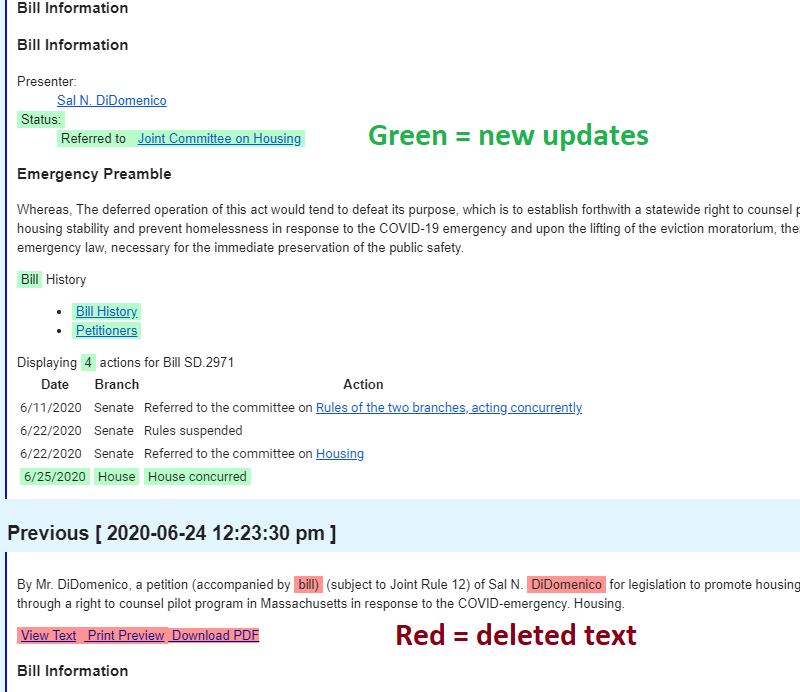 Early Warning System Overview
Massachusetts open meeting law requires notice of public hearing be posted at least 48 hours in advance, excluding weekends and holidays. Even with 48 hours' notice, this is not much time, compared to insiders who know roughly when any given issue will be scheduled.
MassLandlords has automatic monitors running on key state and city websites. These sites are the locations where public notices will be announced for important issues, like the state-wide rent control bill, or your local town's real estate tax rate hearing. We intend to add to and maintain these monitors as sites are added and changed.
The monitors we are using are unhelpful, in the sense that they cannot tell what is significant. Your review of each email as it arrives is critical to help us determine whether a change is significant or not.
Many of the monitors are pointed at muncipal pages, which announce school committee hearings, health and human services meetings, and much more on a single page. Feel free to use these monitors to follow and participate in issues beyond MassLandlords' official scope.
How to be an effective monitor
Do:
Read your emails. You may be the only monitor for a given issue.
Watch out for truncated emails. Emails may be long, in which case the last line in the email may be "Message clipped" or similar. Always click this to view the entire email.
Forward to ews@masslandlords.net any email that contains notice of a hearing, floor vote, or other action related to housing or transportation, or the bill being monitored.
Report needed monitor changes to services@masslandlords.net:
Monitors may alert you to changes that are not related to public policy, for instance, the page may now show a link to submit a feedback survey. Forward that to us and suggest what we can exclude or change about the monitor to make it more specific to policy.
Some communities create multiple pages for hearings, and each subpage is blank when it first appears. We will need to add monitors for those subpages, and/or switch that monitor to a more expensive, depth-crawling monitor for that community.
Feel free to use the message boards to publish notice of hearings. Our message boards are a great way to engage other local owners privately. You do not need MassLandlords' permission to organize local attendance at hearings. Remember our guidelines for speaking in public.
Do not:
Do not report non-housing or non-transportation issues. Much of what our communities do is very important and signficant, including schools, safety, health and social services, and much more, but we can't weigh in on all of it. If it a bill or hearing is not related to housing or transportation (which determines where housing is needed or built) please do not report it to us.
Do not filter our emails to spam, or mark them as spam. If you don't want to get emails anymore, update your subscription preferences on the Early Warning Page at MassLandlords.net. Give us one week to remove you. It's a manual process.
Tips
Many cities post notice of a meeting first, with an agenda to be posted later. Get the link for where the agenda will appear, and have us add that to the Early Warning System by emailing the link to services@masslandlords.net.
On a windows machine, you can search long agendas for keywords like "housing" or "landlord" by pressing Control-F. On a mac, press Command+F.
If we're not covering a city or a type of notice, tell us. Email services@masslandlords.net with the link you want us to watch.
We will send a notice every 10 days that lets you know the system is still working and shows new things we've added for tracking.