Court Asked to Provide Counsel for Indigent Landlords, Deflects
| by Nomer Caceres. Posted in News -
By Peter Vickery, Esq., Legislative Affairs Counsel
Governor Baker's Eviction Diversion Initiative provides taxpayer funded lawyers for indigent tenants. What about similarly situated landlords? They may be eligible for lawyers too, but not taxpayer funded: landlords get unpaid volunteers. And landlords with an LLC? Nothing. You do not need a doctorate in constitutional law to recognize the flaw in this scheme, a flaw that cries out for a remedy. We suggested one solution, a way to publicly-fund private counsel for income-eligible landlords, but so far it has not met with success.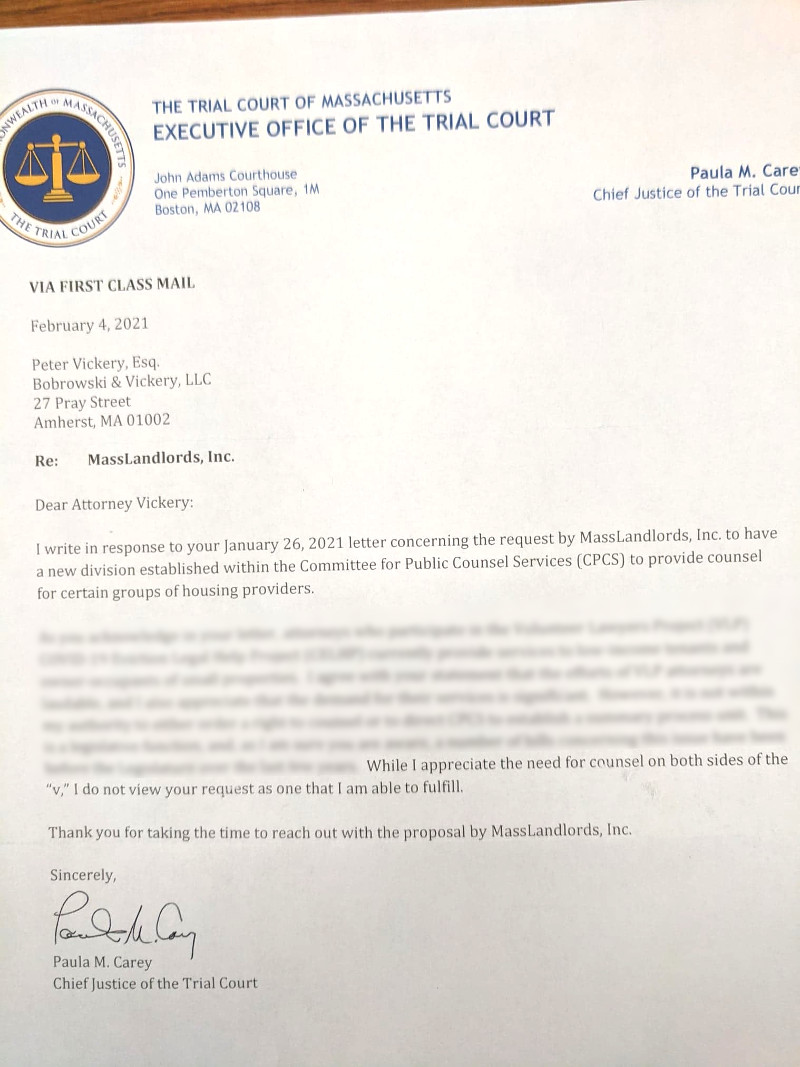 Committee for Public Counsel Services
On behalf of MassLandlords, I wrote to the Chief Justice of the Trial Court, Paula Carey, asking her to establish a new division within the Committee for Public Counsel Services (CPCS) for income-eligible housing providers, including corporations and LLCs owned by income-eligible individuals. CPCS is the public body that pays private counsel in criminal cases and some family law cases involving the care-and-protection of children.
In the letter I cited a prepublication study from Princeton University indicating that 42% of the ownership of Massachusetts rental real estate consists of LLCs and non-LLC organizations. Our own research indicates that in summary process cases 60% of plaintiffs are LLCs and non-LLC organizations. By either metric, approximately half of all owners in Massachusetts would be legally required to hire lawyers in summary-process cases, whether or not they could afford it.
I suggested that "where housing providers who have no choice but to retain counsel in order to safeguard their interests via summary process proceedings are unable to obtain counsel by reason of indigency, judges should be able to assign private counsel." Based on my reading of the applicable statute, I said that in my opinion "it is in the discretion of CPCS to establish a new division dedicated to summary process cases, and that no act of the Legislature would be necessary to effect this change."
Chief Justice Carey did not agree, unfortunately. In her reply she stated that an act of the Legislature would, indeed, be necessary. She is the Chief Justice of the Trial Court, so it is her opinion, not mine, that matters.
It may seem a little out of the ordinary for MassLandlords to be asking for the public funding of private counsel. How did it come to this?
Volunteers? Step Forward
It came as no surprise that Govern Baker's Eviction Diversion Initiative dedicated $12.3 million to legal services for low-income litigants.
What did come as a surprise was the stark divide in the very nature of the legal services provided for low-income landlords. In its overview, the administration states:
To prevent evictions during the COVID-19 crisis, legal aid offices are hiring more lawyers and paralegals to help low-income people who are dealing with eviction. Through the COVID Eviction Legal Help Project (CELHP) six legal aid programs will assist low-income tenants, and the Volunteer Lawyers Project will provide legal assistance for low-income owner-occupants of 2- and 3-family homes.
Low-income tenants receive assistance from paid attorneys whereas low-income landlords have to rely on volunteers, i.e. unpaid lawyers, if they are even eligible. True, the eviction moratorium and economic turmoil left many landlords without the resources to hire lawyers, leaving said lawyers with ample time on their hands. But that time is over. And true, there may be some underemployed lawyers all too eager to take their minds off their woes by providing free legal services. But not many, it seems. Consequently, the (paid) employees of the Volunteer Lawyers Project are having a hard time recruiting volunteer lawyers. This situation is the culmination of the years-long effort by the Massachusetts Right to Counsel Coalition.
The coalition's supporters page reveals that many of the organizations that endorse the proposal are themselves publicly-funded, e.g. the Massachusetts Law Reform Institute, City Life/Vida Urbana, and Greater Boston Legal Services.
The Solution that Ignores the Problem
In the campaign to provide tenants with taxpayer-funded lawyers, we often hear that in eviction cases most landlords are represented by counsel and most tenants are not. Of course, if the landlords are corporations or LLCs they have no choice: Massachusetts law requires them to hire attorneys. But in the advocates' demands for action, this inconvenient, narrative-spoiling fact tends to get a good leaving alone.
For example, you can read and re-read the report from the Boston Bar Association's Analysis Group titled "Investing in Fairness, Justice, and Housing Stability: Assessing the Benefits of Full Legal Representation in Eviction Cases in Massachusetts" without ever finding any reference to the reason for this lopsided legal representation. The report certainly refers to the disparity:
While a majority of plaintiffs, typically landlords, are represented by legal counsel, in 2019 91.3% of tenants in eviction proceedings did not have legal representation.
The reason for it (i.e. the legal requirement that deprives many landlords of the right to represent themselves) does not even warrant a passing reference, not even in one of the 88 footnotes. This would not matter so much if landlords were happy with the state of the law. Far from it, though. In 2018, the year before the Boston Bar Association's Analysis Group published its report, we in MassLandlords had filed an amicus brief urging the Supreme Judicial Court (SJC) to let property managers to at least complete and file the summary process summons and complaint.
To be clear, the lawyers for the property manager and the lawyer for MassLandlords (yours truly) were all urging the SJC to let landlords not hire lawyers. You can read about the twin cases, Williams and Hatcher, on the MassLandlords website.
Unfortunately, the SJC ruled the other way, reiterating the obligation that corporate and LLC landlords must hire attorneys from the outset, even for the task of filling in the summons-and-complaint form. As with so many public policy problems, the favorite solution is what matters, not the root cause.
Conclusion
We believe that the principles of equality before the law and equal access to justice require that attorneys who represent economically vulnerable housing providers should be paid, just as those who represent renters are paid. Although our proposal for establishing a new division within CPCS has not yet gained traction, and the likelihood of the Legislature passing the necessary new law is remote in the extreme, we will continue to push.
Help Us Advocate for Indigent Housing Providers
Become a property rights supporter today.