One Year of Display Ads
| | Bronze Ad | Silver Ad | Gold Ad |
| --- | --- | --- | --- |
| Appearance | Business card | Half page | Full page |
| Print newsletter | 4.25" x 2.75" | 8.5" x 5.5" | 8.5" x 11" |
| Mobile newsletter | 600 px x 300 px | 600 px x 600 px | 600 px x 800 px |
| Website | 234 px x 171 px | 688 px x 97 px | 688 px x 97 px |
| Ad rotation for seasons, promotions | Unlimited | Unlimited | Unlimited |
| Not restricted to the regional section | | ✓ | ✓ |
| Replace your ad with a newsletter article | | ✓ | ✓ |
| | $284 | $520 | $1497 |
| | Sign Up | Sign Up | Sign Up |
With Silver or Gold ads, you can replace your display advertisement with an article placement of the same size. For instance, you can write an article explaining an aspect of the industry or the market. These tend to hold a reader's attention for longer and generate better brand awareness. Exterminators have written articles about bedbugs, banks have written articles about solar financing, etc.
To replace an ad with an article for one month, note the following restrictions. Silver ads can be replaced with 350 words. Gold ads can be replaced with 700 words. A logo or image can accompany the article, but the more words you provide, the smaller the image will be.
Design Requirements
In addition to the sizes listed above, all of our digital ad slots require high resolution raster files (jpg, png). Our print newsletter requires high resolution vector files (pdf, ai). We staff a designer so that you don't have to. Many advertisers simply tell us what they want and we design it. Contact our team hello@masslandlords.net with questions. There is no additional cost to use our design services for your display ad.
Traffic and Growth
We are reaching out to the other landlord organizations across the state to bring them under the banner of MassLandlords. Each local group gets its own regional section in the newsletter, which is where all bronze ads appear. If your business operates state-wide, a silver or gold ad will get you placement outside of the regional sections. Visit our Chapters page to see the latest list of regional sections.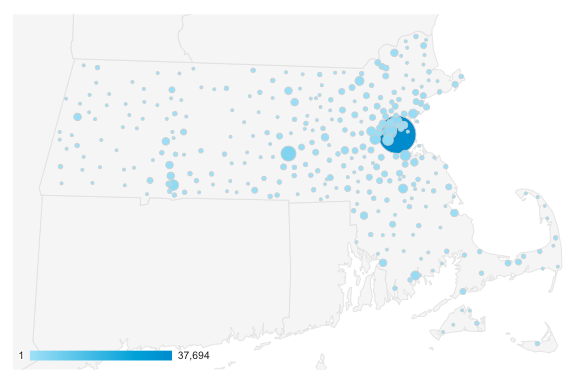 As of March 25th, 2021, our total annual traffic was 344,678 unique visitors across 440,174 sessions and 729,581 page views. We had over 6,900 on our mailing list, and we had a list average open rate of 25.4%. The median number of units owned is 4, and the average is 33. Our member companies range in size from sole proprietor duplexes to corporations with hundreds of units.
Our rates are priced to be competitive with other methods of advertising. Our network-wide CPM averages $4.21 for Bronze, $13.11 for Gold and Silver; CPC averages $0.28 for Bronze, $0.87 for Gold and Silver. We can produce click and display reports on request. To the best of our knowledge, our ads cannot be blocked by ad-blockers.