The COVID landscape contiues to shift for landlords and property owners. Join us online in our monthly zoom meeting with Court Magistrate Nick Moudios to walk us through the new steps required to file a 14-Day Notice for non-payment of rent in Massachusetts.
All landlords must give tenants an attestation form and submit a copy of any Notice to Quit for nonpayment of rent given to a residential tenant during the COVID-19 State of Emergency to the Executive Office of Housing and Economic Development. This is required by 400 CMR 6.00 / Section 1 of Chapter 257 of the Acts of 2020.
Required Attestation Form to Accompany a Notice to Quit
Landlords Must Provide Attestation Form With Notice to Quit: During the COVID-19 state of emergency, landlords that issue a notice to quit for nonpayment of rent to a residential tenant, must also give the tenant, with the notice to quit, a completed form attesting (swearing) to certain facts. This is required by law - see Chapter 257 of the Acts of 2020.
Meetings are open to the public! Tickets are $10. Zoom meeting information will be provided the day of the event. Become a member and the annual dues pay for all 10 meetings a year!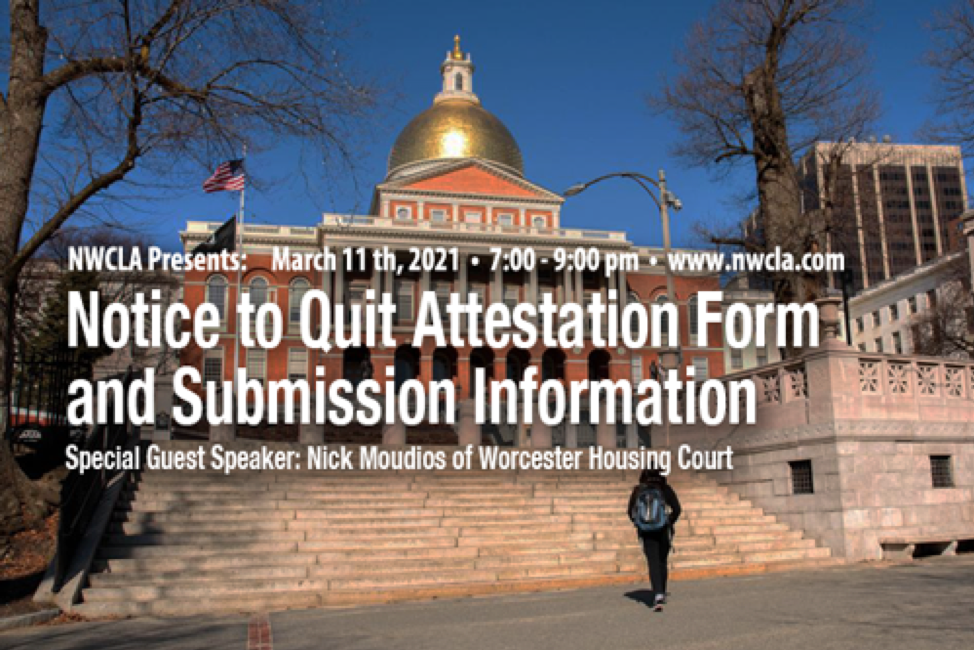 Thursday, March 11th
NWCLA Meeting Agenda
Visit nwcla.com for any last-minute updates or changes.
Location
Participation is Easy
As a result of the COVID-19 (coronavirus) pandemic, our events have been replaced by webinars or virtual meetings held during the traditional event time for each former location.
Pricing
Membership not required! Open to the public.
Public and Members other than NWCLA: $10
MassLandlords.net/NWCLA members: pay annual dues, then free
Zoom meeting information will be provided the day of the event.
This event will be recorded and accessible for active NWCLA members only at https://www.nwcla.com/members/meeting-recordings/.
This event is operated by volunteers.
v1