Our February 2021 Special Guest Speakers is Dr. Alicia Wasula, President of Shade Tree Meteorology, LLC.
The Shade Tree Meteorology team provides a range of custom services, tailored to the unique needs of each client. Professional meteorologists with extensive experience issuing forecasts and radar-based severe weather warnings translates into exceptional skill at reconstructing weather events as a weather expert witness. Clear, non-technical (but scientifically sound) explanations of the what, where, when and why in thunderstorm events, flooding events, and winter storm events have proven extremely useful to clients in pretrial and courtroom testimony. Cases have involved, among others, camper deaths in flash flooding, slips & falls, electrocution, roof collapse, and building flooding.
The presentation will be about tools, web sites, and alerts that you can automate to notify your residents in your rental properties in case of a weather emergency.
Meetings are open to the public! Tickets are $10. Zoom meeting information will be provided the day of the event. Become a member and the annual dues pay for all 10 meetings a year!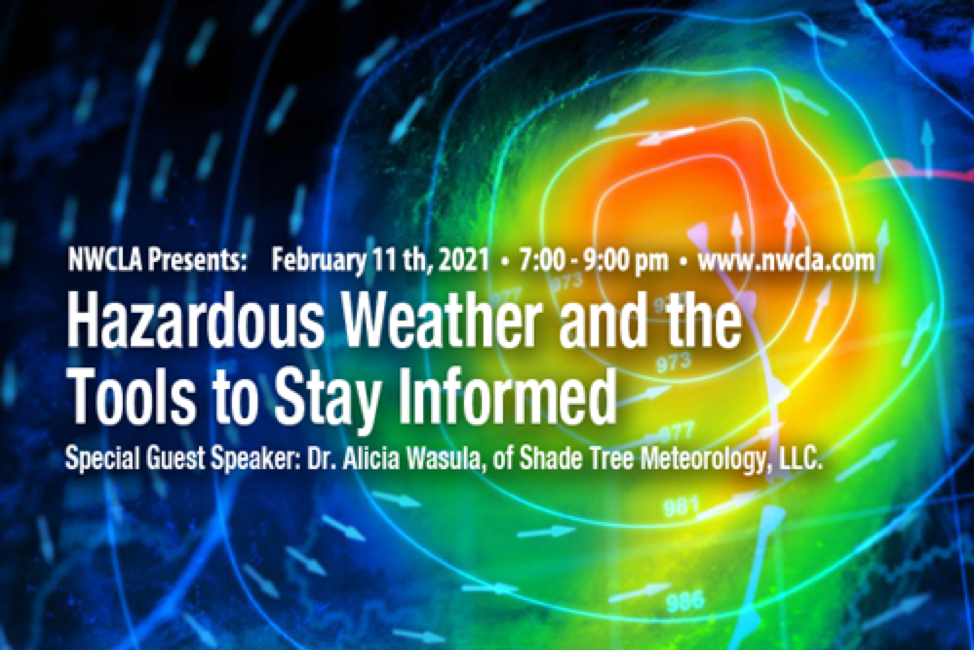 Thursday, February 11th
NWCLA Meeting Agenda
Visit nwcla.com for any last-minute updates or changes.
Location
Participation is Easy
As a result of the COVID-19 (coronavirus) pandemic, our events have been replaced by webinars or virtual meetings held during the traditional event time for each former location.
Pricing
Membership not required! Open to the public.
Public and Members other than NWCLA: $10
MassLandlords.net/NWCLA members: pay annual dues, then free
Zoom meeting information will be provided the day of the event.
This event will be recorded and accessible for active NWCLA members only at https://www.nwcla.com/members/meeting-recordings/.
This event is operated by volunteers.
v1